Sometimes two things that you love combine to form something even more amazing—like when your best friends got married and had the cutest baby ever, or like when people started putting lots of delicious salt into already delicious caramels! Now it seems that another of these magical combinations has just been discovered: marijuana wine! Whoaaa, dude, are you serious? Totally, man. Pot brownies are one thing, but pot wine is, like, on a whole different level.
Apparently those sneaky bastards out in California's Wine Country—which of course is practically next door to Pot Country—have been onto this innovation for some time; they just haven't been blabbing about it, for obvious reasons. Thankfully, the good folks at Gourmet are here to open our eyes to the possibilities.
"In wine country, pot-infused wines are the open secrets that present themselves in unmarked bottles at the end of winemaker dinners and very VIP tours."
No wonder everyone on the West Coast is so chill! This revolutionary concoction—which is called either "special wine" or "green wine" or "tree wine"—is crafted in pretty much the way you'd imagine it would be. Says one anonymous chef,
"I know a winemaker that takes a couple of barrels a year and puts a ton of weed in it and lets it steep, and that wine is just superpotent."
G/O Media may get a commission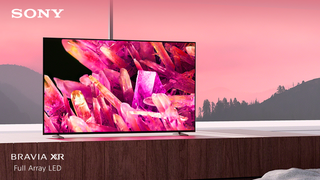 $400 off
Sony 55 Inch 4K Ultra HD TV X90K Series
I bet it is! It sounds so simple, almost as if any enterprising home cook could do it…But probably it's more complicated than it seems, or everyone would have figured this out by now, and instead of going to work like functional human beings we'd be at home all day in front of the TV complaining that Joy Behar's nasally voice was harshing our Malbec mellow.
Beyond Pot Brownies [Gourmet]
Image via Stéphane Bidouze/Shutterstock.