IMHO, Naomi Watts has always been the more endearing half of the blonde, icy "Aussie Posse" best-friend duo that includes herself and Nicole Kidman. Watts, who got a Lead Actress Academy Award nod for her role in The Impossible, is filming a 60 Minutes CBS segment as part of their pre-Oscars nominee special. But when asked to speak in a quick 5-minute segment on behalf of Watts, Kidman declined. Says an insider: "Clearly she's not inclined to help her friend because she's jealous she's not in this year's Oscar's spotlight." Kidman's camp protests that she had to turn it down due to time constraints, but the source (who I am picturing as Watts' husband Liev Schreiber with a fake girly voice) shoots back: ""It was a 'no' right off the bat [for Nicole.] She could have made time if it was a priority."
To make matters more competitive, the two are currently each shooting the biopic of a famous golden-haired princess-slash-tabloid victim at the moment: Kidman is portraying Princess Grace of Monaco and Watts Princess Diana. [NYDN]
Finally, Kidman admits to Botox. (She's laying off the Botox.) [HuffPo]
---
Jennifer Aniston, preternatural favorite of the "loser-in-love" tabloid story, is taking preventative measures with Justin Theroux so that she doesn't become a GROSS OLD CRONE FISHWIFE (translation: A beautiful, successful, charismatic single female millionaire) and dragging Justin to couples therapy.
"She thought it would be a good idea to start married life rid of any problems," a source close to the two told Grazia. "Justin seems to be as much a believer in the therapy as Jennifer is. On arrival, they had to hand over their mobile phones and undertake counseling, couple massages and screaming therapy - where you howl your feelings out at the top of your voice. It was pretty tough going and they had to address all of their deepest fears and worries.'' My deepest fear and worry would probably start with an "A" and end with "gelina Jolie." [Belfast Telegraph]
G/O Media may get a commission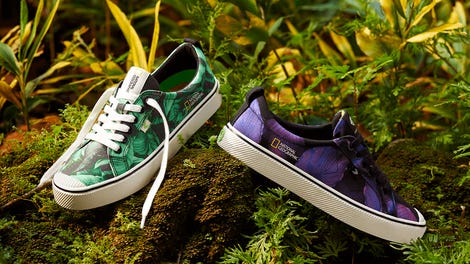 New New New
Cariuma + National Geographic
---
Russell Brand, one of the last people on earth who can be effectively described with old-timey Britishisms like "scalliwag" and "gadabout," has apparently invited Demi Moore on a spiritual retreat at the Ananda Spa in the Himalayas because yoga and meditation helped him so much during his split with Katy Perry. The spa promises to "cleanse the soul" and "heal internally," which I bet won't be the ONLY thing going on "internally" (I'm talking about our old friends Penis and Vagina, just to be clear). Call me a purist, but I think vodka shots and flirtations with creepy, vaguely European dudes at bars are the only way to get over a breakup. You've got the right idea, Demi. [The Sun]
On Howard Stern's show, Brand said that he hardly listens to Perry's music and kind of gives no shits about her love connection with numb Lothario John Mayer.
"What do you think of your ex dating John? Isn't he a womanizer?" Stern asked.

"It's worse or better than me - depending on how you view it," Brand replied. "You have to let go of the instinct to protect someone once you divorce them."
[NYDN]
---
Lena Dunham covers Entertainment Weekly this week. ("My point with getting naked is never proven. It's not like, 'Oh, I did it first season, and now you guys get that there's a women of a certain size on TV, so I'm done.' A guys came up to me while we were shooting and said, 'My sister loves your tits.' I was like, 'Thank you so much!'") I'm just so glad they didn't bring out that same old tired Breakfast At Tiffany's shoot. Let Audrey rest in peace, for God's sake. [Indie Wire]
---
Jonah Hill, Gerard Butler, Leonardo DiCaprio, Mel Gibson and Bradley Cooper go out clubbing together in Miami now and do stuff like spray the dance floor with 4-foot-long water guns. Who do they think they are, One Direction? A puffier, famous-ier, (mostly) Oscar-nominated version of Entourage? [Page Six]
---