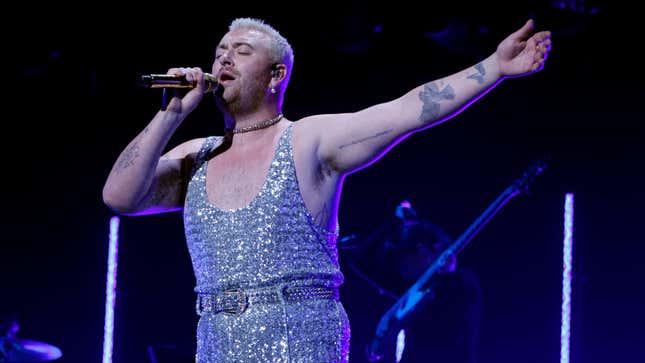 As Sam Smith has made clear in their latest music video, they're "Not Here To Make Friends." They're here to have lots of queer sex—and that's very upsetting to some people, apparently.
Pro-Abortion Protesters in NYC Have Two Words for SCOTUS
In the video, which dropped on Jan. 27, Smith hosts a lavish gala in a countryside mansion, declaring that they "need a lover." Surrounded by extravagantly dressed guests and an impressive waitstaff, they traverse through the mansion serving cocktails, looks, and a whole lot of ~queer Gatsby~.

Personally, any time I have the privilege of watching Sam Smith descend from a golden helicopter decked out in a hot pink feather ensemble, I'm absolutely delighted by the vision, but I may be in the minority. The more sexually repressed and conservative corners of the Internet are clutching their pearls in a fit of heterosexual rage, debating among themselves whether or not the video is too "raunchy" to be online at all. Conversation around age restrictions on platforms like YouTube have even been resurrected, with apparent concerns that 5-year-olds (and teens! Quelle horreur!!) might stumble upon the video. In essence, chaos has ensued.
For my part, I don't see anything in the video beyond a celebration of queer sexuality and body positivity: In one scene, Smith dons a crown, a white bejeweled corset, nipple pasties, and not much else while having water splashed into their mouth. In another, their backup dancers sport gold corsets that reveal their butts in a heart-shaped sheer cutout, which they swivel in the air synchronously. In a different part of the mansion, other backup dancers are strapped in leather bondage and undulating on beds suggestively. (BDSM might not be appropriate in all situations, but a room full of consenting adults seems to be a good place for it.) If given the chance, I'd love to be a fly on the wall at this party, if not part of the action entirely.
British journalist Alex Philips, though, had some choice words to say about the video, telling Good Morning Britain that some scenes are "unhealthy" and some akin to "extreme hardcore pornography," according to the Daily Mail. Internet personality Oli London, who is known for pushing anti-trans messaging, went as far as to call the video "monstrous" on Twitter. A new moral panic has taken shape, all because Smith dared to have a little bit of unabashedly queer, scantily clad fun. If I'm being honest, kids stumbling upon an expression of self love and a display of non-heteronormative sexuality really wouldn't be the worst thing in the world. Leave them out of it!
People freaking out over the sexual forays of celebrities is nothing new (and are at this point, pretty boring), but the criticism directed at Smith is rife with homophobia and fatphobia. Fans have been quick to come to Smith's defense online, saying that the only reason they're getting so much hate is because of their gender identity and decision to more fully embrace their femininity. The 30-year-old singer has been openly queer for the duration of their music career and came out as nonbinary in 2019—a journey that they've said has been "a struggle" because of all of the backlash they've received. Gloria, Smith's latest album, has been heavily criticized online, despite serving us bops and soul-filled numbers.
In terms of Smith's costumes, one fan brought up the fact that while Smith was criticized for wearing the corset, others would have applauded an almost identical outfit on another more fit queer body. Another applauded them for championing body positivity within the LGBTQ+ community.
As it often goes, all of the hate is coming from outside the mansion, and quite frankly, Smith probably can't even hear you. They're too busy inside having fun, being hot, and trying to find a damn lover.