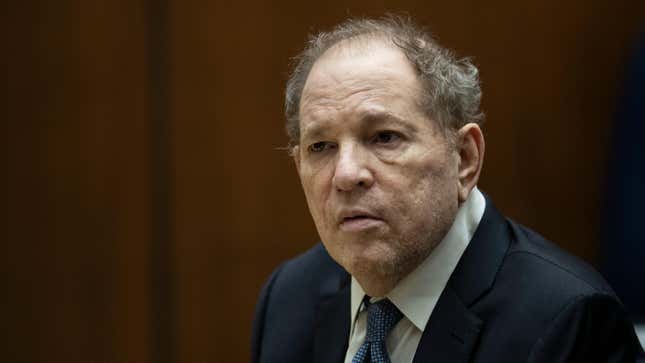 It's official: Harvey Weinstein's defense attorneys have asked for a retrial in their notorious client's Los Angeles rape case, just one month after he was found guilty.
Last December, Weinstein was found guilty on three counts of rape and sexual assault, including forced oral copulation against one woman, identified in court as Jane Doe #1. He was acquitted of one count of sexual battery against a Jane Doe #3, and the jury was hung on all three counts related to Jane Doe #2 and #4.

This week, Weinstein's attorneys filed a motion for a new trial, citing "prejudicial errors" in the Los Angeles proceedings, and urged the court to "reduce the verdict" and "reconsider its rulings" by way of a new trial with a new jury.
"The motion speaks for itself and is demonstrative of just how some, even in the halls of justice, are inspired by social and political outcry, rather than facts," Weinstein's spokesperson, Juda Engelmayer, told Variety. "Witnesses lied about crucial evidence that would have exonerated Mr. Weinstein, and the court protected those lies and deemed them unnecessary for the jury to hear or know."
Of the "protected lies, " Weinstein's defense claim they were precluded from admitting evidence—namely, Facebook messages that would supposedly skewer Jane Doe #1's credibility and her testimony. In the filing, the defense writes that the prosecution of presenting a "false version" of her experience with Weinstein.
Doe #1 testified that Weinstein violently sexually assaulted her in a hotel room while in Italy for a film festival. She broke down on the stand while detailing the alleged rape. "His eyes changed. His behavior changed… I was physically afraid of him," she said, specifically recalling how much bigger he was than her. "He was giving me orders… I was crying repeatedly, saying, 'No, no, no, no.'"
"He forced me to do what he asked…I was crying, choking," she continued.
Weinstein has also appealed the verdict in his New York trial, wherein he was found guilty of rape and sexual assault. In that appeal filing, his defense attorneys referenced the Me Too movement and claimed the judge, James Burke, bowed "to the pressure of an influential social movement determined to punish centuries of male misbehavior by setting an example in convicting one man."
The Los Angeles appeal will be heard in court on Feb. 23, the day Weinstein is to be sentenced.