Last week, Harvard University President Drew G. Faust announced that members of the school's single-gender clubs, including final clubs and fraternities and sororities, won't be allowed to hold leadership positions on campus or be nominated for undergraduate scholarships. The decision, geared at eliminating discrimination, applies equally to men's and women's clubs. While Harvard's policy doesn't eliminate single-gender clubs, it discourages serious students from joining their ranks and refuses to recognize them as official campus organizations.

In a letter to students, Faust argued that the single-gender clubs, "enact forms of privilege and exclusion at odds with our deepest values." She added, "The College cannot ignore these organizations if it is to advance our shared commitment to broadening opportunity and making Harvard a campus for all of its students." Faust's decision lead to inevitable outrage, particularly from alums who were members of the all-male final clubs, some of whom have threatened legal action against the university.
Missed in the public mourning of the death of tradition and values represented by men's final clubs (which the New York Times described as "bastions of money, power and privilege") was the fact that Harvard's new policy was also aimed at the four sororities and six all-women final clubs, a decision that many Harvard women say eliminates necessary spaces where women can openly discuss contentious issues like campus assault. Today, the Boston Globe reports that more than 200 Harvard women held a rally protesting the university's decision.
Demonstrators from a group called the Crimson Women's Coalition argued that the policy, which will take effect in the fall of 2017, will eliminate important community support where women can gather to discuss their rights in spaces that value their voices. The Globe reports that the group held banners reading, "Women's Groups Keep Women Safe," and "Collective Punishment Is Not a Harvard Value," as they chanted "What do we want? Female spaces! When do we want them? Now!"
Speakers at the event argued that all women's groups were a place to freely express concerns that would otherwise be ignored in co-ed spaces. Via the Globe:
Among those voicing opposition during the rally was Caroline Tervo, an undergraduate who said women face discrimination in a variety of areas.

Those include the classroom where men are called on more often, the workplace where many women earn less than their male counterparts, and in social settings where females are "targeted and shamed for their sexuality," Tervo said.

Her women's groups, Tervo said, "have been invaluable parts of my experience."
In a statement, Harvard did not address the Coalition's specific concerns but reiterated their commitment to the new policy. "We continue to believe that gender discrimination has no place on Harvard's campus," campus spokeswoman Rachael Dane said, "At the same time, we support the right of every community member to express their views."
G/O Media may get a commission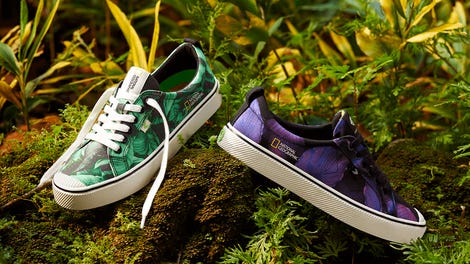 New New New
Cariuma + National Geographic
Following Harvard's policy change, two all-men's final clubs announced that they would accept women; the remaining 12 final clubs, as well as the nine fraternities and sororities, have yet to make public announcements.
---
Image via Getty.