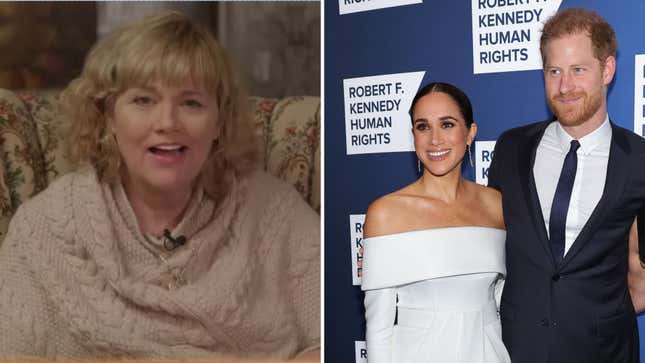 One thing about Samantha Markle? When it concerns her estranged half-sister and her "ginger husband," aka the Duke and Duchess of Sussex, she WILL be a royal—apparently, perennial—pain in their asses.
In 2021, the elder Markle, with whom Meghan shares her father Thomas, sued the couple for defamation in response to the couple's sit-down with Oprah Winfrey. In the $75,000 suit, Markle claimed her younger half-sister and brother-in-law delivered "demonstrably false and malicious statements" to a "worldwide audience." The court filing also alleged that Meghan "published and disseminated false and malicious statements" about her in Finding Freedom, a 2020 book penned by royal biographers with Meghan's contribution.
Now, the Sussexes have been deposed in separate interviews. Previously, Meghan has sought to avoid giving testimony, but Judge Charlene Edwards Honeywell has dismissed her motion, ruling that she "does not show that unusual circumstances justify the requested stay, or that prejudice or an undue burden will result if the Court does not impose a stay."
"[Meghan] does not satisfy the high standard required to stay discovery pending the resolution of a dispositive motion," Honeywell added.
While the Duke and Duchess have yet to comment on the deposition, they've previously called the suit "baseless" and "absurd."
"We will give it the minimum attention necessary, which is all it deserves," Markle's attorney told TMZ last year.
Of the specific statements the elder Markle took issue with, according to the suit: Meghan's identification of herself as an only child; that the last time the half-sisters saw each other was over a decade ago; and that her half-sister's "rags-to-riches" narrative was inaccurate since their father made sure she attended "elite and expensive private schools." She was also offended by Markle's characterization of her as a "high school dropout" and a mother to three children "from different fathers," in leaked emails.
In March 2022, Meghan's estranged father said that he was willing to testify in the case against his youngest daughter and her "ginger husband."

"I've been trying for almost four years to get to see my daughter and her ginger husband in a courtroom face to face.…I'd be thrilled to come to court and talk and defend my oldest daughter," Thomas said in an interview.
"There are so many obvious, obvious lies that are immediately challenged that I can't imagine Meghan even going into the court with this," he continued. "She can't defend the things she said."
However, a BuzzFeed News investigation is evidence that the elder Markle knows a thing or two about mud-slinging. Of the more noteworthy findings? Samantha had apparently used a number of Twitter accounts to criticize her younger half-sister and make potentially defamatory claims. Additionally, the outlet said they'd found evidence that implied Samantha had been acting as an informant to an "influential" anti-Meghan YouTube account.
Lest any forget, the elder Markle has been an outspoken detractor of her sister since her relationship with Prince Harry made news. In the immediate wake, Samantha gave an exclusive to The Sun. The headline? "Don't fall for my little sis, Harry, she'd be the next PRINCESS PUSHY." She also wrote a tell-all of a similar name, The Diary of Princess Pushy's Sister.
A date for the Sussexes' depositions has not yet been reported, but...watch this space.