Homer's Odyssey—maybe you've heard of her? If so, you're probably familiar with the myth of Tantalus, a Lydian king who did something bad and was punished for all eternity to stand in a pool of water up to his neck that would recede every time he tried to lower his head and take a sip.

With regards to my beauty routine, I can relate. One of the medications I'm on inadvertently acts as a diuretic, drying me the fuck out, so about half of my routine is devoted to looking and feeling more hydrated than I am. (The other half is focused on looking pretty, which I'm sure Tantalus cared about, too.) This side effect is both a blessing and a curse. On the one hand, my skin has never been clearer. I really have to try to give myself a whitehead at this point, which is wild considering how little I sleep, how much I drink, and how many Crown Fried mozzarella sticks I drop down my facehole every week.
The downside to all of this medically induced clear skin is that my face has also never been dryer, meaning that a good chunk of my beauty routine consists of slathering on a bunch of assorted goos and oils, knowing that too much is never enough. The goal is Glossier model on a Gatorade drip. The reality is just kinda dewy. Like many 24-hour Product Diarists before me, I don't really know what I'm doing. But I do have a system, and I'm mostly fine with the results.
She wants the goo
G/O Media may get a commission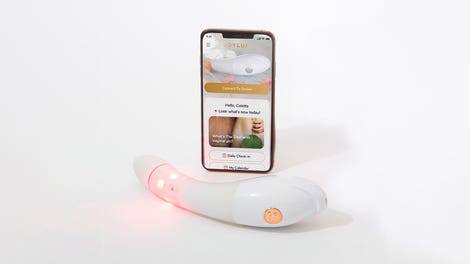 $50 Off
Joylux vFit Gold Device
I set a bunch of alarms, hoping I'll wake up between 6 and 6:30 a.m. to go to the gym near my house. I fasten my hair with a Scünci hair elastic and two to three Conair bobby pins, change into my workout garb, and head out to start my day off right. Half the time, though, I start my day out very wrong, waking up between 8:15 and 8:45 a.m. to a beeping phone with a dozen snoozed alarms I don't remember snoozing. Either way, I wake up parched. Parched! I beeline to the kitchen sink with my bottle of 365 Everyday Value Psyllium Husk, 500mg. I drink three 16oz glasses of water in rapid succession, pairing the first with the aforementioned fibrous godsend. I used to pop a biotin capsule every morning to stimulate hair growth—like GNC's 5000mcg variety, though I wasn't loyal to any one particular brand over the two years I took them. Now that the hair I wanted to grow out has grown out, I've stopped.
Where is the goo
Like every other keyboard hag at this site, I work the first half of the day from home, filing one or two blog posts before showering and heading in. I brush my teeth with a blue Morihata Binchotan activated charcoal toothbrush. I'm deeply whatever about the whole activated charcoal thing. I just like the design. It's sleek and simple, no weird ridges or racing stripes in sight. I'm an adult. I don't need my toothbrush to go faster. I brush with whatever toothpaste I grab when I reach into the medicine cabinet. My three roommates and I share toothpaste, but we don't really coordinate the buying of it so we usually end up having two to five tubes of various sizes waiting to be grabbed at random.
I wash my hair about once a week. When I do, I use Maui Moisture's Bamboo Fibers shampoo and Fantasia Tea Tree Naturals conditioner. I use them because I'm pretty sure they're sulfate/paraben/silicone/whatever everything free, which is good according to some things I read on the internet a few years ago, and because I like how they make my hair look and feel. That's the most important thing, at least for me, when it comes to any beauty stuff. You don't have to understand how the goo works to know that you like what she's doing for you. Anyway, I use both about once a week, and I'll wash my hair with conditioner only when I feel like it needs some sort of a reset. Otherwise, I don't wet it. I shave my arms and legs about every other day using a Gillette Mach 3 razor and generic Moisturizing Shave Cream for Women. It's cheap, it's my favorite brand, and if a man uses it he dies. Two truths and a lie! I wash my booooody and my beauuuuuutiful dueeeeets with the Dr. Bronner's tea tree soap that comes in an orange bottle and a lavender loofa I got at Duane Reade. I step out of the shower. I'm clean, at least physically.
Yon goo begins
I wrap myself in a towel and beeline across the apartment, past my roommate blogging silently at the kitchen table, to my room where I comb my wet hair with a wide-tooth comb; coat it, ends first, with a cubist quarter's worth of Wild Growth Light Oil Moisturizer; pile it all on top of my head; and secure it with a Scünci hair clip. I coat myself with Nivea Cocoa Butter Body Lotion and beeline back to the bathroom. (All my lines are bees.) I shave off all the hairs that laser and electrolysis have yet to murder and then wash my face with a Glossier cleanser that one of my old roommates left in the shower when she moved out to live with her boyfriend. It kind of looks like cum, but it doesn't feel like cum at all. Two stars.
I dab on some Thayer's Witch Hazel with Cucumber—it sucks, stick with the regular kind they make—with a Studio 35 Beauty Cotton Ball and some CVS-brand aloe vera gel to sooth irritation, followed by some Kiehl's Ultra Facial Moisturizer and some Hawaiian Tropic Ozono Loción Protectora Solar 50SPF I got in Mexico City two years ago that somehow hasn't run out. I used to swear by Kiehl's Creamy Under Eye Treatment with Avocado Oil, even as friends tried to tell me it was mostly bullshit, yet another example of how consumer capitalism had weaponized my having of skins against me. It was the $48 price point that eventually did me in. I miss the way it made my under eyes shine like a terrified seal on a KY Slip N Slide, but I've found that sheen to be more or less replicable with my usual moisturizing routine. I used to do a mask every Sunday night, but now I'm too busy.
Goo over time for pretty
After moisturizing in the bathroom, I make my final ligne d'abeille back to my bedroom. By this point, I am sweaty once more. My shower, she was meaningless. I apply my Secret Invisible Solid deodorant/antiperspirant and douse myself in whatever's left of that Viktor & Rolf Flowerbomb sample I got for free at Sephora last month. Onward to makeup. I dab some Sephora-brand orange color corrector onto a few areas on my jaw, chin, neck, and upper lip and rub it in with my fingers. I have some makeup brushes, but I don't know her. I squirt some Dr. Jart+ Premium Beauty Balm SPF 45 onto my fingers and rub it into my face, starting at the color-corrected areas and moving outwards in every direction until I reach collarbone or hair.
I comb my brows upward with my Anastasia Beverly Hills clear brow gel and position them as desired using my fingers. While that dries, I scribble all over the outer corner of my eyes using a Sephora Retractable Eyeliner in Dark Chocolate Brown with Bronze Shimmer and then smudge it out. Then I apply a bunch of Sephora-brand Lashcraft Big Volume mascara to my top lashes and gently blink a little bit so the outer corner of my lower lashes get Tammy Faye adjacent without getting full-on Tammy Faye. I return to my brows with an Anastasia Beverly Hills Brow Wiz in Dark Brown, focusing on defining the arch I've already got and filling in the inner halves of my eyebrows. I leave the outer halves alone. For lips, I stick with Clinique Black Honey Almost Lipstick, topped with the black tube Chapstick-brand chapstick. For a while, I used Yu-Be lip balm. Those were the days. I was That Girl! But the store I bought it from stopped stocking it, so now I'm back, humbled and ready to reintegrate back into everyday life with you plebes.
That's it for makeup lately. I don't really change anything when the sun goes down. I just touch up what's already there as needed throughout the day. My routine used to be a lot more intense. At its peak, it also involved setting powders, setting sprays, contour, highlight, blush, four different kinds of eyeshadow on the lids, combination Sephora Colorful Shadow & Liner/Urban Decay Heavy Metal glitter eyeliner on the inner corners, liquid eyeliner, liquid lipsticks, lip glosses, and actual brushes not fingers. But it just like…stopped being fun and started to feel like something I felt obligated to do in order to feel worthy of being seen or deserving of leaving my own house. I'm waiting for it to feel fun again. Until then, I'm keeping it simple.

Last thing I do is undo the hair clip and let my hair air dry. Depending on the weather, I'll either leave it down, put the non-bangs part up in a bun, or swoosh it all to the side in a clamshell-clipped cascade of curls in the hopes that I look like what I saw when I looked at the teenage girls who used to babysit me. At some point, I get dressed to leave the house, and, at some point later, I get undressed to go to bed. Before I do, I wash my face, moisturize, and coat my lips with chapstick in a futile effort to seal in any moisture before I wake up all dry and parched once more.