I don't make a habit of reviewing galleys of books that get sent to me, because — unlike panning The Hangover 3 or something, after which Todd Phillips will probably not show up at my house with tear-stained sleeves — there is the distinct possibility that the author will read my review, and I don't like to hurt people's feelings. So you should take what I'm about to say with hella gravitas.
There's a new (well, not new, but new to most of us) addition to the smart, edgy coming-of-age female lexicon: Harper Perennial is re-releasing the 1956 novel Chocolates For Breakfast, written by then-18-year-old Barnard student Pamela Moore as an American answer to the France's Françoise Sagan novel Bonjour Tristesse. It follows Courtney Farrell*, who's 15 when the novel opens, through a boarding school in Greenwich, Connecticut, in The Garden of Allah — the real-life famous L.A. apartment complex that houses her movie star mom, and where she loses her virginity to a barely-closeted, alcoholic heartthrob — and binge-drinking Ivy League parties in New York. It's also totally unputdownable in the best way. And the reissued cover's not even that bad!
For whatever reason, the book was as sensational upon publication as it is forgotten today, though it's often been included on lesbian reading lists for its allusion to Courtney's mutual crush on an English teacher. For a book that's a cross between Gossip Girl and The Bell Jar, and not without its over-the-top moments, either (Courtney's major love interest, a louche Italian heir, does things like snort derisively and say "Philistines!") the feminist implications pack a hell of a punch. But it's fun too! Ooooh, I loved it.
One gets the feeling that Courtney, not to mention her "slutty," troubled best friend, New York debutante Janet Parker, was doomed from the start. As was Moore, the author, who committed suicide at 27 while in the midst of her fourth novel — it's now suspected that she suffered from bipolar disorder. None of her subsequent books received as much acclaim as Chocolates.
You guys! Readddd it! It would be especially perfect for any too-cool Class of 2013 high school girl in your life, or someone who just is one at heart.
G/O Media may get a commission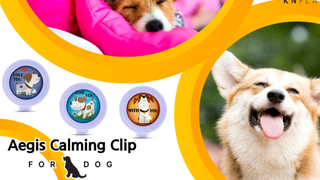 20% off
Aegis Calming Clip for Dogs
*From Wikipedia: Courtney Love claims she was named for the Chocolates protagonist.