Leave it to the media to ask the hard questions in the wake of reporter Ines Sainzs's alleged harassment by the New York Jets. And now she's being forced to answer questions of whether she was asking for it. Yep.
Joy Behar put the question pretty directly in an interview last night, and Sainz responded, "I don't believe that my dress is the point of the discussion." She added that she'd done "nothing to provoke" the Jets' catcalls and other inappropriate behavior. So why is a woman obligated to prove she didn't "provoke" her own harassment? Maybe because of coverage like this, from the Post:
Sexy TV sports reporter Ines Sainz slinked into last night's Jet game in a black minidress with a plunging neckline and matching black stilettos — while insisting that she "felt very uncomfortable" when lusty Jet players made salacious comments about her in their locker room after practice Saturday.
Or this Good Morning America segment, in which such workplace harassment experts as Law & Order's Richard Belzer weigh in on whether Sainz's clothing was "too provocative to be in a men's locker room" — where, according to Sainz, at least one male player was naked:
G/O Media may get a commission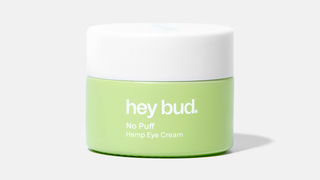 15% off
Hey Bud - No Puff Hemp Eye Cream
Or, from Tucker Carlson's site The Daily Caller, a charming slideshow headlined "Baby got back" and featuring photo captions like, "My, what a serious photo you have to headline your website!" and, "The skin tight jeans — er, we mean, the sensible outfit that sparked the current controversy." Sainz is now backpedaling on her original statement that she was "dying of embarassment" over her treatment by the Jets, saying she's not "sure" harassment took place. Still, what's so depressing about this particular round of media fuckery is that with a very few exceptions, female reporters pretty much have to be conventionally attractive to get on television. But if they dress or act in such a way as to make themselves too attractive (Sainz has also been criticized for "flirting" with players and calling herself "hot"), then they obviously deserve to be harassed. It's almost as though the system is set up to keep women from being taken seriously, and to maintain their status as objects for public sexual scrutiny rather than actual professional people. One thing's for sure: this is about more than tight jeans, no matter what the guy from Law & Order says.
'Sexes & Ohs' At Jets' Game [NY Post]
Baby Got Back: Meet Ines Sainz [The Daily Caller, via Media Matters]
Was Reporter Sexually Harassed By Jets? [CNN]
Was NFL Sideline Reporter Harassed? [ABC]
Earlier: Classy Jets Players Accused Of Harassing Female Sideline Reporter