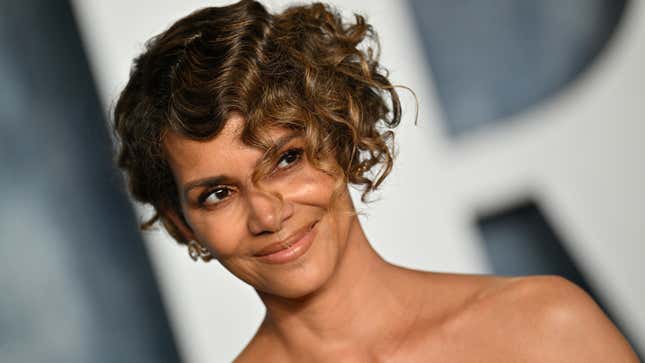 Halle Berry graced us with some free life advice this week and my implicit trust in her has been validated: It's good. In a recent Women's Health piece, the actor (and health-and-wellness guru) told readers, "If you're in your mid-thirties, don't be bogged down by the idea that you have to have children by a certain age."
Berkeley Law Professor Calls Out John Hawley's Transphobia
She continued: "And if you want to have children, you don't have to be defined by those old ideologies that this is what women 'have' to do. Do it only if you want to, because you give up a lot of your personal life to growing those other lives. And maybe you're not a woman who wants to do that. No harm, no foul, no judgment."
The advice feels especially relevant from Berry, who had her first child, daughter Nahla, at age 41 in 2008. She gave birth to her second child, son Maceon, in 2014 at age 47, and later told Ellen DeGeneres the second pregnancy was a shock because she'd thought she was premenopausal. "I didn't think it was possible at my age, honestly. They call it a geriatric pregnancy," she said. "I was, you know, on my way. This is probably way TMI, but I was kinda premenopausal, so to have this happen was huge."
From an unsettlingly young age, women and girls are taught to be mindful of our ticking biological clocks; now, teenage girls and college-age women are increasingly being targeted with ads for egg-freezing across their social media feeds. The pressure only picks up as you get older, and, certainly, by the time you're in your 30s, it feels like you're suddenly just supposed to have kids—that, or have a tediously precise plan in place for how to do so in the very near future.
But Berry is right: She and growing numbers of other women—including some very famous ones—are starting families, becoming pregnant, and giving birth later in life, which is lovely to see, because everyone should be able to plan and build their family on their own timeline.
Also to Berry's point, women "give up a lot of your personal life to growing those other lives." No one should have to, but this is certainly our reality, especially in post-Roe v. Wade America, where lawmakers are doing everything they can, constantly, to make pregnancy as disempowering and even dangerous as possible.
Elsewhere in Berry's Women's Health piece, she addresses younger women: "If you're in your twenties, own that. Own the era of exploration. Earn the era of real curiosity. Earn the era of trying to figure out who you are," Berry wrote. "Take your time and figure yourself out. You don't have to be rushed, you don't have to be forced. It's not a race." Of course, this advice is part and parcel with her insights for 30-somethings: In a culture that attaches urgency to everything, we could all benefit from slowing down and being more deliberate—especially when it comes to life-changing decisions like having children.