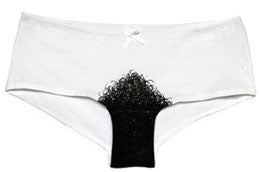 Finnish art duo Nutty Tarts (Tärähtäneet Ämmät, in Finnish) has developed a line of screen-printed undergarments that are more hirsute than sexy. And maybe NSFW?

Created to "celebrate hairiness", the Nutty Tarts design team has fashioned a line of leggings, men's undershirts, and underwear that are speckled with stubble. An update to the beach-time favorite of sculpted bods on oversized T-shirts, the Hairy Underwear Collection goes in a different, less appetizing direction.
There's nothing wrong with daring prints, but depending on your personal grooming preferences, this just might be repetitive.
This post originally appeared on Refinery29. Republished with permission.
Want to see your work here? Email us!