Jezebel managing editor Erin Gloria Ryan and I are here at the Conservative Political Action Conference, where the politics are a deep crimson, the lip colors hew to a ladylike coral, and some of the hair is so close to heaven it's practically one with the Lord. We managed to grab a quick Q&A with the ladies of Style Me Bar, an "on-demand style service" that's providing hair and makeup to every VIP — man and woman alike — who's speaking onstage at CPAC.
The Style Me Bar women were way too professional to reveal which conservative superstar needed what kind of beauty help, but they were willing to discuss some general tips for CPAC-appropriate looks. And so, live from a hallway in Maryland, here are some tips from the exciting world of conservative makeup and — bonus — how a Jezebel writer can look a little less, er, like a Jezebel writer.
Q: Hi, ladies! Can you introduce yourselves and what you're doing here at CPAC?
Tracey Garcia: We're Tracey Garcia and Amanda Moran of Style Me Bar, and we're doing all the hair and makeup for the VIPs who go and speak onstage. Laura Ingraham, Marsha Blackburn, Chris Christie, almost everyone who's been onstage. We're doing the makeup back here in a private area. It's a guarded area, because there are some pretty high-level people here.
Q: What do you do for the women?
We're not giving them a heavy look. Very soft, very elegant. It doesn't necessarily have to be conservative. Polished. That's a much better way of saying it. This isn't a nightclub, this isn't a ball. We've kept the makeup very subtle and elegant. A few false lashes at the outer corners, maybe, to make their eyes pop. We've done galas and events where it's top of the glam. For this – they might be having parties tonight and then they bump their makeup up right before.
G/O Media may get a commission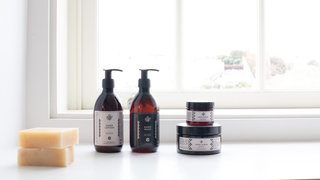 Exfoliate and Hydrate
The Handmade Soap Company
Q: How about the men? I imagine it's a little different.
The men always need makeup too, so they don't look shiny. They get foundation and powder, and sometimes you have to fill in their brows.
Q: Can you say whose brows you have to fill in?
No.
Q: Fair enough. What else do the guys need?
Sometimes they need mascara if they have no lashes or they're light. The men are fine with it because they know it looks natural onstage. Even on camera, even when they're doing live interviews from here to a news station, you can't tell. If you didn't have makeup, the light would shine right through you.
Amanda Moran, left, and Tracey Garcia, right, of Style Me Bar.
Q: Are the women coming in barefaced?
Some are, and some are being touched up, fixed, tweaked. Ready for camera.
Q: What lip colors and what eye colors are you using?
Amanda: There's no one look. We match that to the personality. Some people like it glammed up, you know, and some people like it more natural.
Q: I'm wearing my usual look today. [Cat eye makeup, red lipstick, somewhat sullen liberal expression.] What would you do for me, if I were going onstage here and I wanted to... fit in a little better?
Tracey: [Politely] Your makeup is great! It looks great! Really. My daughter does hers like that.
Q: No, no, please. I'm not sensitive. Tell me. What would I need to do to be stage-ready?
Tracey: Well, I'd rosey up your cheeks. [Thoughtful pause] Put some lip gloss on. I'd smoke the corners of your liner. Maybe put a few lashes in the corner to pop the eye. I would give this [gesturing at my eye] a softer smoky look and take a really thin liner underneath. Less severe, you know? I love your eyeliner and I think it looks cool. But I'd just... take it down notch.
Q: What about hair?

Amanda: A lot of times we'll double-team. I can be doing somebody's makeup and she's doing somebody's hair. It gets so busy back there that the next person can be waiting in line behind the person we're working on.
Q: How are they? Really.
Amanda: Everybody's been really pleasant. Thankful for makeup. Very thankful that we're here.
Tracey: I did CPAC last year. I was by myself, which was intense.
Amanda: We do a ton of big events.
Q: What are some common beauty problems you see at conferences like this?

Tracey: You always have to touch up. If it's hot and humid, you'll have to re-do your lips. There's no such thing as makeup that stays on forever. You have to watch your red lips or they'll bleed. We always make sure and touch everybody up right when they go on.
Q: Conservative women's hair tends to be…
Tracey: Coiffed? Big?
Q: You might almost say immobile. How do you get it to stay like that?
Amanda: Lots of hairspray and teasing, plus some rollers.
Q: So has everyone opted for makeup?
[Off the record remark about conservative superstar who comes with her own makeup person, which they make me promise not to include. Client confidentiality!]
Amanda: As a whole, the people who run CPAC offer makeup as a service. People have the option to use it or not.
Tracey: We've had two or three men opt out. Which, in my opinion, wasn't the greatest decision. You go onstage looking tired and washed out compared to everybody else. Or shiny. But we can't force them.
Top photo of Carly Fiorina via AP. Photos of Amanda Moran and Tracey Garcia of Style Me Bar by Elizabeth Glover for Jezebel