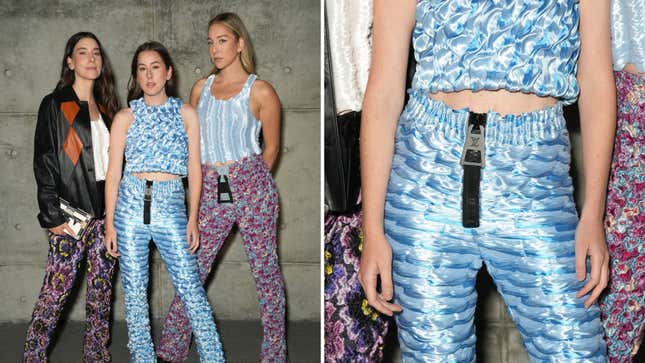 Over the weekend, the ever-haute couture Danielle Haim, Alana Haim, and Este Haim attended Louis Vuitton and W magazine's awards season dinner in Beverly Hills, whilst decked out in head-to-toe Louis Vuitton. But I, like Vanity Fair's Emily Kirkpatrick, couldn't get past their big, gaudy, hulking, campy, supersized…zippers.
Lea DeLaria Thinks We Should All Free Bleed at the U.S. Capitol
Indeed, the stars of the evening weren't Michelle Williams, Cate Blanchett, or White Lotus breakouts Meghann Fahy and Haley Lu Richardson, who were also in attendance, nor was it the Haim sisters themselves. It was the Haim sisters' zippers. "Whatever is this phenomenon?" I wondered aloud, as my face went aghast. Are we just a few months away from mondo zippers hitting the mainstream, trickling down from the clutches of the elite and the nouveau riche into the unmanicured claws of people like you and me? Is the goal to look like small babies overshadowed by industrial-grade accouterments, or to sport a garment that symbolizes an ironic chastity belt? Never mind the fact that the sisters were also dressed in Limited Too-adjacent bubble tops and pants. On behalf of the masses, I'm worried.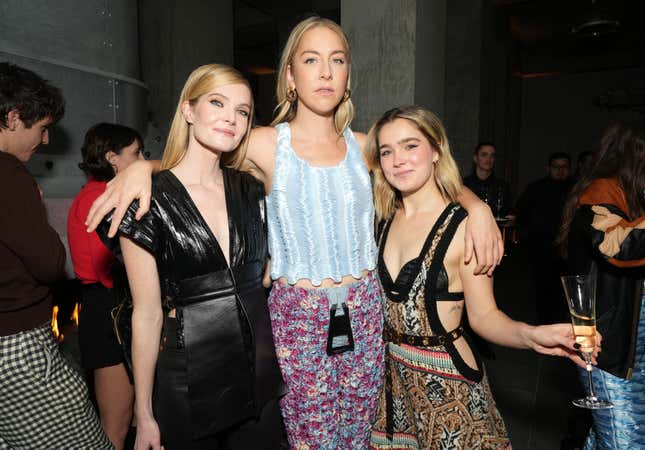 The giant zippers were the crème de la crème of LV's Spring/Summer 2023 runway collection, alongside oversized handbag hardware, luggage tags, belt buckles, and gold padlocks. The show took place in a "monster flower" intended to have a "fun-house-mirror effect," the New York Times wrote. The zippers, designed by Nicolas Ghesquière, were the largest ever manufactured, according to Vogue, and played with "scale to disrupt the codes of femininity."

"'Pretty tough,' that was something we were talking about, and 'threatening beauty.' The idea was to look at something pretty, something sweet, and to see in those elements what strength they have," Ghesquière explained. "You want to be deceived, in a way. You are attracted by it and you are seduced by it. And yet you know that it's fake." OK then!
To try and understand how the Haim sisters came to sport these "pretty tough" fasteners, let's turn to their history with LV. Starting around November 2021, when Alana began ramping up publicity for her starring turn in Licorice Pizza, the sisters began to gradually morph into "Louis Vuitton girls," according to WWD. Throughout 2022, if the sisters were spotted, they were spotted in the eponymous letters. Alana wore a custom Louis Vuitton dress to the BAFTAs in March. The sisters twinned with Taylor Swift in matching leather LV pants in July. They also wore "menswear-inspired" LV suits to Glamour's Women of the Year Awards in November. So the girls are obviously zipped up in an ironclad and lucrative Louis Vuitton contract, which explains the willingness to be zipped into an experiment as campy as this one.
Here's the thing: I actually think the ensembles themselves are fun. Girlish, sure, but equal parts utilitarian and aloof. I just need to know if the King Kong of zippers is parting the jungles to come to a Zara near me, or if this is just another instance of rich people doing rich things—which is to say, rich people wearing garments that cost more than college tuition, because they can. The Zoe Report swears that the Y2K fashion girlies on TikTok have already identified "deconstructed clothing," or "garments that can shape-shift by way of functional details like zippers and buttons," as a looming 2023 trend. And in a Washington Post article about the renaissance of the "going out top" that triggered me all the way back to Wet Seal, popular design elements listed included "metal chain links, zipper embellished, denim corsets, and mesh long sleeves." I can confidently say I am not excited about garments being "embellished" by zippers—since that implies they may not actually zip anything but hang off our bodies like useless charm bracelets.
A quick perusal of the luxury brand's website reveals an "exposed zipper fit-and-flare dress" (for $3,700) and an oversized zipper skater dress for $3,450—both of which riff on the utility of zippers. It appears, then, that LV is capitalizing on the wider deconstruction trend, but in a manner that hopes to be avant-garde and "threatening beauty," I guess?
Perhaps LV intended the Haim sisters to be emblematic provocateurs of a message about zipping up their bodies in an act of fierce control and agency—a reflection of the times, and all that. Perhaps LV said, "Haha wouldn't it be so funny to put Haim girls in big ass zippers?" Either way, at this point in the investigation, I know just two things in this world: One, most zippers are too small, and designers should find some happy medium between the puny ones we have and the LV Boogeyman iterations; and two, the Haim sisters should get out of this LV contract pronto.