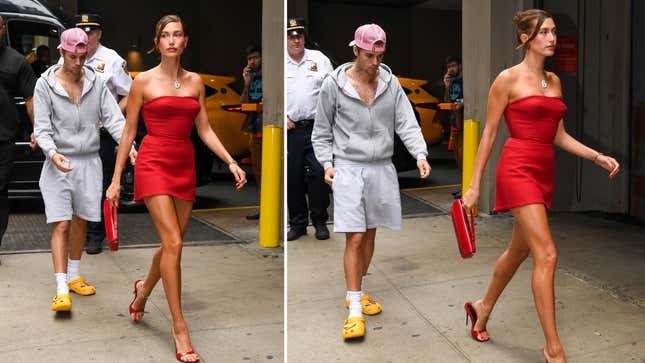 Hailey and Justin Bieber, two people I keep forgetting are married, pulled up to a New York City Krispy Kreme on Monday afternoon to promote a new lip glaze in Hailey's beauty line, Rhode, and for the last 24 hours, the internet has engaged in a very, uh, level-headed, completely reasonable Parliamentary-style debate about the mismatched appropriate-ness of their attire.
Let's dive into the ~discourse~. The new photos of the couple—Hailey in full, bright red glam and Justin in sweats and crocs with a pink baseball cap inexplicably thrown atop the hood of his hoodie—vividly recall Beyoncé and Ed Sheeran's viral, contrasting looks during a 2018 performance that saw Sheeran in jeans and a T-shirt and Beyoncé in an ethereally beautiful pink gown. Both duos have drawn the same outsized reactions.
On the one hand, there is the very obvious point that men can basically wear whatever they want and invest as little effort into their appearances as they like. Of course, this wasn't Justin's event—he wasn't performing or trying to draw any attention to himself. But at the same time, it's hard to imagine Hailey showing up to support him at a concert in sweats and crocs, herself. As one particularly outraged Twitter user put it, "id be so angry if i was giving the girls my best look of the year and here come my husband."
Twitter's beloved menswear critic Derek Guy also weighed in: "if your partner dresses up to go to krispy kreme you should dress up too." Others have characterized the contrasting outfits and effort levels as "the whole Barbie movie monologue in one picture."
Fair! Now, may I present you with the intriguing counterarguments—namely, that the two were going to a Krispy Kreme store, not the freaking Met Gala.
To that end, sweats, a hoodie, and crocs are a decently appropriate ~look~ for the average Krispy Kreme run, I concede you that.
Of course, the Biebers showing up to a date night or event in vastly different states of dress is a running pattern at this point. This is hardly their first public jaunt featuring Hailey dolled up and slaying in a cocktail dress and Justin in a hoodie and/or jeans and sweats. For your convenience, I've prepared the following compilation of such looks in recent years: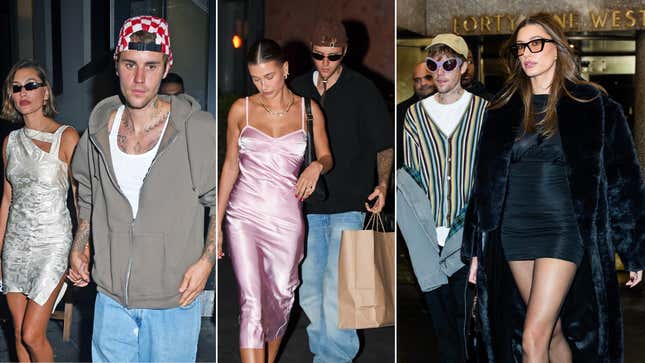 The two are seemingly allergic to dressing for the same event. Perhaps that's just their thing??
Wherever you land on the great "Justin Bieber wearing sweats to his wife's work event is the ultimate embodiment of patriarchy" vs. "Justin Bieber wearing sweats to Krispy Kreme sounds about right" debate, one thing is for certain: We're all talking about Rhode's peptide lip treatment in strawberry glaze when we otherwise probably wouldn't be. So it seems Hailey Bieber—or, rather, capitalism—wins again this round.