In the latest post at her really helpful and down-to-earth lifestyle site GOOP, Gwyneth Paltrow suggested that we all make sex bark. What is sex bark? According to GOOP it's "a quick and potent chocolate recipe perfect for a sweet bite after a romantic dinner." For getting your Valentine's Day sexy on, duh. What are the ingredients of sex bark? Definitely Gwyneth Paltrow's pantry staples.
Yuummmm, sweet, sweet Moon Pantry Sex Dust which Gwyneth can't stop dusting on things. She's like a Moon Pantry Sex Dust fairy.
Here is a picture of sex bark which, despite its ridiculous, GOOP-y ingredients, looks pretty good. [People]
G/O Media may get a commission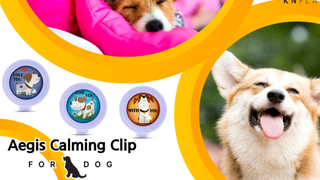 20% off
Aegis Calming Clip for Dogs
---
Notable "not a feminist," Meghan Trainor doesn't like showing "the vagina area." In an interview with Daily Mail, Trainor said:
I started the booty song movement but no one knows what my booty looks like. That's the trick, it's all about the mystery. I save that for my boy. Well, for whoever gets to date me one day.
She added: "I don't like pointing it out, I don't know why. I like to keep that a secret for my future hubby." But don't worry, Trainor isn't saying that every woman should cover up her booty, "I love when Beyonce and all those girls wear those body suits but I don't like showing the vagina area." Meghan Trainor: inventor of the booty movement and anti-vagina area. [Daily Mail]
---
Ruth Wilson, star of The Affair and recent Golden Globe winner, had some interesting things to say about the gender disparity in Hollywood sex scenes. "Why have I got to do the orgasm face?" Wilson asked Net-a Porter, "there should be a male orgasm face. Why is it always the woman?" She added: "Let's analyze the male orgasm. Why aren't we thinking about that a bit more?' It's hard to make good sex scenes work – there are so many crap ones out there." [Net a Porter]
---
Images via GOOP and Getty.