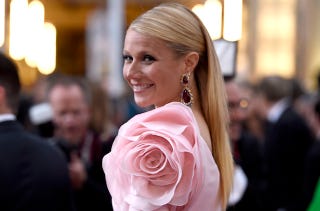 Because Gwyneth Paltrow wants her kids to lead a doleful and cheerless life she told Bloomberg Television that Goop could one day be theirs. "I never wanted to do a proprietary brand," she said of her lifestyle site. "I wanted it to be its own thing that my children can run one day if they want to!"
Paltrow spouted off some other lies about Goop during the interview. "I think that there is sometimes some miscommunication. We aren't a super luxury site, but we're aspirational. We have things on there that cost $40, [and] we have things on there that cost $500."
I don't know what the fuck she's talking about, everything I've ever looked at on that site was at least $1.2 mill.
Image via AP