Gwen Stefani's real estate in the pop cultural consciousness is, at present, largely occupied by her role as The Voice's sole woman judge and girl-power megaphone.
Her presence there as a musician and fashion designer (as reminded by the custom Team Gwen shirts she hands out to her crew) is never obscured, owing to the vocal lesson segments and constant reassurances that she knows what it's like to have a "weird voice." But other than her dud Pharrell single, "Spark the Fire," and a few live performances this year, her music career has seemed to flit behind the scenes, The Voice shadow exacerbated by recent revelations that she had split from husband Gavin Rossdale after 13 years.
It was on this ginger footing that she emerged at New York's Hammerstein Ballroom Saturday for her second solo show this year. And it was this ginger footing that was totally obliterated on first sight, as she emerged belting the rapt, full-throttle yodel of "Wind It Up" wearing low-slung, knee-ripped ska pants with bondage straps in a very L.A.M.B.y crimson plaid. It was Gwen Stefani as Kool-Aid Man, busting through all impressions of the demure gal in the Voice judge's seat, "Oh Yeah"ing her way back to the Gwen Stefani persona we've loved for years, back when '95 wrought her "Just a Girl" angst and kickboxing stage aesthetics and, oh yeah, ska pants with bondage straps in crimson plaid. A phalanx of back-up dancers gleamed behind her in neon leotards and pumped their bods. Weeks ago, she opened this season of her pop competition show covering Blake Shelton's "Neon Light," and her ruddy tone worked so well I felt a pang of FOMO that she'd never explored the country genre further. Saturday night, as she tick-tocked and pep-squaded and blurted melisma and wound it up, I forgot all about that fleeting twinge, remembering why Gwen Stefani is singularly Gwen Stefani.
No Doubt emerged in the mid-'90s, when the pop world was harnessing Girl Power as a credo as well as a point of marketing, spurred by feminist awakenings across the country, from widespread sexual harassment awareness to a glut in the publishing of important third-wave tomes. Stefani's girl power/break-up narrative was large-scale, fresh, and colorful for a country still nursing its grunge hangover, but still had a whiff of riot grrrl in it, if not ethos than in spirit. As the group meandered from ska and punk to the deeper fields of reggae, disco, funk, they were notable in both their lack of fealtiness to one genre before millennium, and for Stefani's voice, a rugged alto that didn't vibrate more than wobble; when she's not rapping (toasting?), she always sounds as though she's one note from bronchitis, a quality that's lent itself to her edge and also her ability to emote.
While Stefani unfurled into her solo career, she proved herself a boundary-breaker alone as well, to both great and ill-advised effect; in 2005, she was the first white woman to appear on the cover of VIBE along with Pharrell, a fact that might not necessarily shock now but at the time was a major scandal, that a white woman would take up valuable real estate on a publication by and for people of color. At the time, she was working on Love Angel Music Baby, her revelatory debut which was marred not just by the Harajuku Girls, a quartet of mute Japanese back-up dancers she used as props, but by appropriative/appreciative videos like the one for "Luxurious," my favorite song, which cast Stefani as the sole golden-haired chola at a Chicano barbecue.
G/O Media may get a commission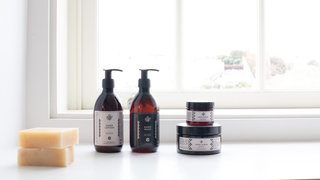 Exfoliate and Hydrate
The Handmade Soap Company
She played "Luxurious" about halfway through her Hammerstein set, wedged between rickety Pharrell joints from her lesser L.A.M.B. follow up, The Sweet Escape. Its gossamer lyrics and triple-time beats from the genius Nellee Hooper, translated here by a more-than-capable full live band, indeed luxuriated beneath her Dietrich-aspiring vocals and dye job, but its placement as a palate cleanser among all these pastichey tracks emphasized something else: post-M.I.A., Stefani is one of the most experimental, mainstream pop singers of the last decade, taking chances on weird concepts and beats that don't always work for the idea-splooging but are admirable for their effort.
Moreso, her sincerity as a 46-year-old divorcee rang true, particularly in a venue so small as the Hammerstein, with its relatively small 2200-person capacity. She debuted a great new song that was, no doubt, about Rossdale, and she hit hard as only an adult woman with history can: she dropped the Freudian zinger "nobody taught you how to love" in the verse before kicking in with the chorus, which went "I used to love you." Never doubt the veracity of a grown woman's break up jams.
The most surprising aspect of the show, however, was hearing "What You Waiting For?" for the first time in years, and re-experiencing its rarity 10 years later. Since its release on Love Angel Music Baby, we've entered an epoch overrun with ostensibly confessional pop singers, Taylor Swift's break-up jams at the top of the diaristic food pyramid and, maybe, Rihanna's accountant revenge narratives on less-severe tier. "What You Waiting For?" is a meta-motivational pop song written in second person, with Stefani addressing herself and her own fear about writing music without her band; it includes the remarkable and relatable line, "Take a chance you stupid hoe," some variation on which any of us might say when we're trying to self-berate outside of our procrastination stases. (Tip, though: self-berating doesn't work.) It's one of the most realistic pop songs I can think of, an actual journey inside Stefani's head, an unedited thought process that does more to make a superstar seem like your best friend—or, more crucially, you—than any intimate instas can. She was ahead of her time.
---
Contact the author at julianne@jezebel.com.