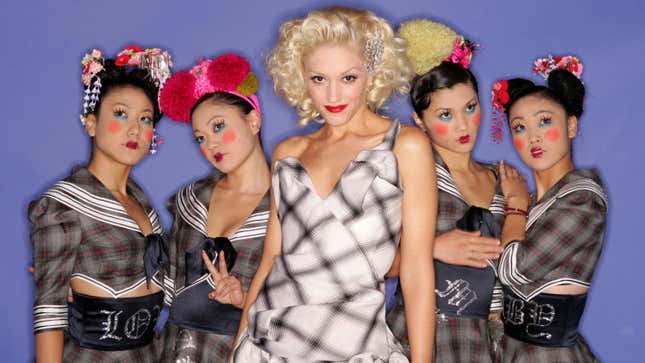 There is, excuse me, no doubt in Gwen Stefani's mind that she is Japanese. "What," you might ask, as you look at an Italian American woman with bleached blonde hair. But in a bizarre interview with Allure senior editor Jesa Marie Calaor, who is Asian American, Stefani repeated a number of times that she is indeed Japanese. Gwen, how about you...don't speak! (I'm sorry.)

Crush of the Week: Daniel Radcliffe's Weird Al
Calaor set out to interview Stefani about her new vegan beauty line, GXVE, and asked The Voice judge about her former, wildly popular fragrance line Harajuku Lovers. What had Stefani learned from that line, which won the Fragrance Foundation's Fragrance of the Year Award in 2009 and helped contribute to her brand's $1 billion in sales? And what had she learned, if anything, from the backlash against her and the brand for its cultural appropriation? Of the latter, very little, it turns out.
"My God, I'm Japanese and I didn't know it," Stefani says, retelling a revelation she had while visiting Japan for the first time. "I am you know," she reiterated. Stefani, for the record, grew up in Fullerton, California, with an Irish American mother and Italian American father. She is not Japanese. Her father worked for Yamaha and traveled often to Japan. She did not visit the country until she was an adult, but tells Calaor that her father's visits constituted her "Japanese influence." Stefani is pretty keen on claiming other's experiences as her own.
Calaor tries to give Stefani numerous opportunities to clarify her assertion. "Maybe she misspoke? Again and again?" Calaor wonders. (Allure's social media associate, who was present for the interview and is Asian and Latina, was similarly perplexed.) But Stefani was clear: She is Japanese. "Stefani told me she identifies not just with Japan's culture, but also with the Hispanic and Latinx communities of Anaheim, California, where she grew up," Calaor writes.
Stefani's attempt to explain what she meant is that she is a "super fan" and that it "should be okay to be inspired by other cultures because if we're not allowed then that's dividing people, right?" Of course it's completely OK to be a super fan of something, but not being able to discern the difference between being a fan and being the thing you're a fan of is concerning—especially if you're making many millions of dollars by "being a fan."
While Stefani has donated to Japanese charities in the past, Calaor points out her notable silence regarding the recent uptick in hate crimes against Asian Americans. "I envy anyone who can claim to be part of this vibrant, creative community but avoid the part of the narrative that can be painful or scary," Calaor writes. That is, of course, one of the more damaging aspects of cultural appropriation: taking what's fun and hip and celebratory, only to discard the difficulties or disadvantages of a particular identity or community.
When Calaor reached out to Stefani's PR team to ask some follow-ups, they remained mum. They did tell her, however, that she had misunderstood Stefani. How then would Stefani like to be understood? Calaor asked. They declined to elucidate.