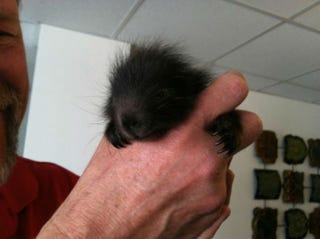 A Maine man is being called a hero of sorts after saving the life of a baby porcupine from the womb of its mother after she was hit by a car.
According to WMTW, Jared Buzzell wasn't trying to be a hero. He was just trying to test some batshit crazy thing his uncle told him about porcupines:
Jared Buzzell said he was on his way to search for mushrooms in Minot, which he collects for medicinal purposes. He said he saw the car in front of him hit a porcupine and slowed down to check on it. Buzzell said his uncle had told him a valuable mineral will form in a porcupine's stomach, so when he realized the animal was dead, he said he cut it open to look inside.
Behold how Buzzell performed this glorious operation: "(I) cut the sack open and out fell the porcupine. (I) cut the umbilical cord, put it in a hat. We thought it was dead — then I started massaging it and all kinds of stuff starting coming out of its lungs so it started breathing," Buzzell told WMTW. OK, all of that is totally disgusting; thank you.
Until he can get it to a wildlife rescue, the "proud papa" (I AM SORRY FOR THAT I REALLY AM) is caring for the newborn porcupine, which requires feeding about every two to three hours. Hopefully, he's also keeping the baby porcupine really, really far away from his uncle.
We have reached out to Teddy the Talking Porcupine for comment on this story. His response was "MAH! MMEEHH. MEEEHHHHR." Then he chewed loudly on a corn cob for the next 15 minutes.
Screencap via WMTW.