On Monday, January 22, 2018, 15-year-old Gabe Parker was, the best anyone could tell, doing fine. The following day, he overslept, had some cereal, and then asked his mother to drive him to Marshall County High School, in Benton, Kentucky, where he was a sophomore and a trombone player in the school band. He walked into the band room and asked his friends to flip a coin. (He would later tell police that they got the coin flip "wrong.") Moments later, he walked into the student commons and opened fire with a Ruger 9mm pistol.
Police say Parker hit 14 of his classmates and killed two of them: Preston Cope and Bailey Holt, both 15. Several more students were injured in the frantic stampede that ensued as they fled. A Kentucky State Police detective who interviewed Parker soon after the shooting described him as "shockingly calm."
At any given moment in the United States, some community somewhere is struggling to recover from the worst thing that's ever happened to them, and that worst thing usually involves a gun. Since January of this year, one of those communities has been Benton, a town of fewer than 5,000 people in western Kentucky's Marshall County. Most of the teenagers for miles around go to Marshall County High.

"It's probably the worst thing that's ever happened here," says Venita Fritz, editor and general manager of the Marshall County Tribune-Courier, one of several small community papers in the region. "This is small town, USA."

What's happened since the Benton shooting has been entirely unlike what happened after the Parkland, Florida massacre, which took place just two weeks later and a universe away. Some of the reasons for that are simple: The alleged perpetrator was a local kid, known to the community, and not seen as a looming threat, the way Parkland shooter Nikolas Cruz evidently was for years. There's also the fact that Parker allegedly used a handgun, which he told police he took from his stepfather. That lessened the carnage, and it lessened the media coverage as well.
"If he'd used an AR-15, I think you would've heard a roar from this community," Fritz says.
But the differing responses in Benton and Parkland also point to differences in culture and economics. Both communities are struggling to understand an act of violence that tore through them, but one is rural, and one suburban, one lower-income and one wealthy. Benton has a median household income of around $42,000 a year; Parkland's is roughly $126,000. And Benton's attitude toward guns is markedly different than Parkland's is. In Benton, there is a kind of deep uncertainty, verging on resignation, about whether violence involving a gun can ever truly be mitigated or prevented.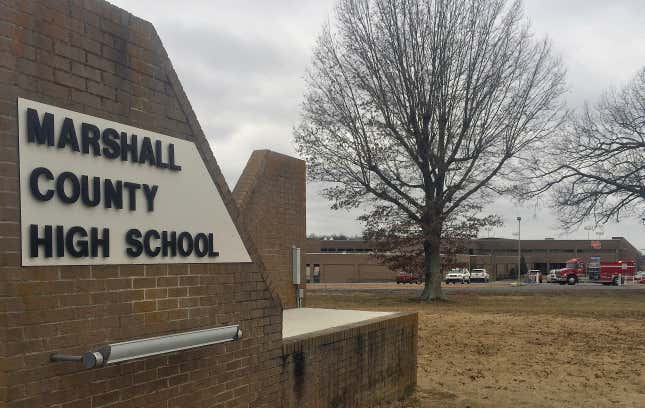 While Florida is full of guns, Parkland itself isn't a particularly firearm-heavy place. In Benton, as several people told me, "everybody has guns."

I came to Benton just after leaving Parkland, where the shooting deaths of 17 people at Marjory Stoneman Douglas High were still the lead story in the national news and the wounds in the community were still incredibly raw.  Everyone in Parkland and the surrounding communities was still talking about the shootings, recounting and reliving the day in minute detail, figuring out where they'd been when the killing started, where their kids had been, their grandkids. And they were marveling at what had come next: a deluge of media attention focused on the brave MSD students who have stepped up and become well-spoken activists for reforming the nation's gun laws. Most major news outlets worldwide have written stories about Parkland, and quite a few have done in-depth profiles of a few key students who stepped forward following the shooting, mainly David Hogg and Emma Gonzalez. There isn't—at least not yet—any sign of the resentment against the media that arose in Columbine, Colorado after the 1999 mass shooting there and a subsequent avalanche of months of wall-to-wall coverage.
I came to western Kentucky at a different part of the grieving cycle, when people were coming out of the shock of the shooting itself and starting to consider its causes. But there is a distinct lack of discussion in this part of western Kentucky about the role that access to a gun played in the crime. People there seem eager to explore other explanations: video games, bullying, parenting failures, Satan.

Though that response isn't necessarily unusual in the context of the wearingly long history of American mass shootings, the stakes in Kentucky are particularly high right now. Due to the back-to-back pressures of the Marshall and Parkland shootings, a passel of new, sometimes conflicting bills are currently before the state legislature: expanded school mental-health screenings, arming teachers, and, from Democrats, a set of reforms that would include banning bump stocks and creating a registry of firearms offenders in the state. What happens in Kentucky—one of the most conservative and gun-friendly states in the country—could be an indicator of just how willing we are to make any kind of change.
In talking to community members in and around Benton, people immediately and recently affected by gun violence, I heard conflicting views. A few said they'd support some gun law reforms. Most did not. Guns are tools in this and many other parts of the country, for hunting and home defense. And even people who said they didn't see the need for bump stocks or AR-15s in civilian life simply didn't believe, when it comes to handguns and hunting rifles, that there could be fewer of them or less ready access to them in their own communities, ever.
Kentucky's politicians, in general, have acted as enthusiastic boosters not just for individual gun owners but for the firearms industry. The state has the highest percentage of legislators in the country with at least an A- grade from the NRA. Governor Matt Bevin has been supportive of the proposal to arm teachers, an idea that one school safety expert told state lawmakers would be "a disaster" and which Marshall County's own superintendent Trent Lovett has dismissed.

In a February interview with NPR, Bevin indicated he'd be looking at "everything."
"[We need to] look at what we are doing to our young people," Bevin declared. "The use of drugs, the depression, the lack of engagement by parents, the lack of morality in our society. We need to look at everything."
On its face, that's a reasonable enough enough assertion. But it's become clear that Bevin means everything except gun safety or access. He made the same points again, at a governor's meeting at the White House.
"There have always been guns in homes and fewer rules. It isn't to say that these rules and restrictions are necessarily bad, but what has changed is what we do or don't do as it relates to acknowledging the value and dignity of every human life," Bevin claimed. He suggested, somewhat bafflingly, that the real problem might be "the number of psychiatric drugs that are increasingly systemic and have very severe warnings associated with them related to depression and suicidal thoughts." He flatly refused to consider that guns have anything to do with it: "50 and 100 years ago, children did not slaughter other children at school. What has changed? It isn't the gun."
This enthusiasm makes sense; Bevin is an eager NRA cheerleader. But arguments I found infuriating from him are, frankly, more understandable and sympathetic when we look at the people forced to live in a world where the worst has happened, and where not a single thing can reliably be done to make sure it never happens again.
---
The day the Parkland teenagers went back to school, I drove over to watch them return. The crush of traffic was intense, and as I finally turned left in front of the school I was met by the sight of a sloping hillside covered in solid black: cops in dark uniforms, who'd come out as part of an effort organized by the Patrolmen's Benevolent Association to support the returning students.

The cops handed out carnations to the students, next to a crush of cameras and reporters huddled underneath blue tents. Most of the teenagers streaming into the school looked tired, blank-faced, grim in a way that aged them beyond their years.
I wondered if these kids really wanted to see 800 guns their first day back, or dodge TV cameras to get to class; I found that it didn't feel particularly good to be one of the reporters gently following a harried-looking teenager to ask them how they felt, and so I didn't. I watched a TV reporter in a pink dress set up a live shot on a median, her heels sinking into the grass. Walking back to my car, I swam against a tide of cops, streaming back to their cruisers.
Landing in Paducah, Kentucky and driving the 20 miles to Benton made for a particularly sharp contrast. Where Parkland is a sleek suburb filled with gated communities, upscale strip malls, and lush palm trees, Benton at this time of year, is a study in browning grass cut through with state roads, lined with small houses and unassuming local businesses: restaurants, furniture stores, a single hotel. Ads on the radio hype a new kind of soybean, a one-night-only hypnosis seminar to quit smoking, a PSA about overdose prevention.
And everywhere, there are the ribbons: blue and orange, Marshall High's school colors, tied around doorknobs and mailboxes. There are identical signs dotting the roadways, stuck at intersections, out in people's yards: MARSHALL STRONG, and, in smaller letters, "Colossians 1:17." ("He is before all things, and in him all things hold together.") The church signs, too, hint at what's happened. At Zion's Cause Baptist Church, on a flickering LED display: PRAYERS FOR OUR COMMUNITY.
The national media was in town for perhaps a week after the shooting, maybe a little less, certainly no more. Unlike the wall of TV cameras that greeted Parkland students on their return, they were pretty much all gone by the time Marshall County High reopened less than a week after the shooting.
Far from feeling forgotten, people told me they were relieved when the national media left. "It was overwhelming," says Natasha Harrell, 32. "The reporters, the comfort dogs. It makes you think every second of what happened."
Harrell has a 14-year-old daughter who attends Marshall High. The girl knew Gabe Parker from the marching band, which she's also in. She was, of course, at school the morning of the shooting.
"She said he was a funny kid," Harrell says. She looks exhausted and sad. Since the shooting, she says, her daughter doesn't want to go to school: "She used to never miss it, and now she's wanting to be homeschooled."
On the morning of January 23, Parker had been considering shooting up the school for about a week, he told police. He'd also considered killing himself, he told Trooper David Dick of the Kentucky State Police, but said he felt that would hurt his family more than if he harmed someone else. A few days before the shooting, he'd taken his stepfather's handgun and hidden it in a laundry basket, he said; that morning, he packed both the pistol and a hunting knife he'd gotten for Christmas in his backpack, in case he ran out of bullets and needed to defend himself.

Parker is chubby, red-haired, and bespectacled. Most people knew him, if they knew him at all, as the trombone player. His classmates have described him as funny, if not particularly outgoing. Several people who know his family called him a "grandma's boy." His parents divorced a few years back and his mother remarried. Court records show he has a younger sibling, a toddler.
After the shooting, rumors started to circulate that Parker had been bullied, which people in town mostly seem to think aren't true, and which Parker denied in that initial interview with police. There is some talk around town that he "changed" over Christmas break, and that people noticed the difference when he returned to school, but no one can even seem to agree on that part.

"I hear when we learn why he did it, we'll all be floored," one local storeowner told me, after lowering her voice and making sure nobody was nearby. She declined to tell me her name. Like others in town, she said she knew Parker's family, but didn't want to gossip about them.
After the shooting, Parker told police he dropped the gun outside the band room. Other students, not realizing he was the gunman, motioned to him to come hide with them. He stayed there for a while, then followed along as teachers directed the students to a weight room. It's unclear how long they stayed in that room, or how Parker was identified as the shooter, but police say he was apprehended as he left the room. He later told them he'd considered taking the knife out, but decided that was pointless.
Unlike the school resource officer in Parkland who infamously chose not to enter the building, reports indicate that the first person to respond to the shooting at Marshall was the resource officer there, Sgt. Ray Chumbler, who's worked at Marshall since 2007. He reportedly saw students running from the building as he was making his way inside after finishing a routine sweep of the parking lot, then radioed for help. It's unclear what happened next: the sheriff's office declined to specify exactly how Chumbler was involved in Parker's arrest, citing the ongoing investigation, but told the Courier-Journal no shots were fired and that Parker was arrested "without incident." (It's also unclear if Chumbler was armed.)
Parker told police that no one else was involved in the shooting, and that he wasn't aiming at anyone in particular. When shown a photo of one of the victims, he said he didn't know her. He asked police how many people were wounded and if anyone had died. At some point, police gave him a McDonald's cheeseburger and fries, which he ate calmly.
"It was like nothing I've ever seen and I've been doing this for 18 years," Hilbrecht, the Kentucky State Police Detective said in a juvenile court hearing in February, referring to Parker's calm demeanor. "It was bizarre."
Hilbrecht testified that he'd asked Parker if he had any motive.

"The biggest thing that he gave me was that he said he was an atheist and that life had no purpose, had no meaning, his life had no purpose. Other people's lives also had no purpose," Hilbrecht said, according to WKMS. He added that Parker described wanting to "further society through science" but said he was failing a science class, making him feel even more hopeless.
Parker also supposedly said he wanted to "break the monotony." Hilbrecht testified that Parker said the shooting was "an experiment," to see how students, the police, and the world would respond. (His attorney, who didn't respond to a request for comment, has asked for a mental competency exam. Parker is being tried as an adult, and the attorney is also attempting to have his case moved to juvenile court.)

"More or less, he wanted to see how people would react," Hilbrecht told the court.
One of the fatally wounded victims, Preston Cope, was taken out of the school on a stretcher and loaded into an ambulance, gravely wounded. His father, Brian Cope, later told local reporters that when they arrived at the school, he knew his son from catching a glimpse of his socks through the ambulance doors. Cope said that he and his wife Teresa arrived at the school in time to watch their son die, and to say goodbye.
Bailey Holt, the other person who was fatally wounded, was able to call her mother before she died.

"She called me, and all I could hear was voices, chaos in the background," her mother Secret Holt told WKRN, weeping. "She couldn't say anything, and I tried to call her name over and over and over, and she never responded."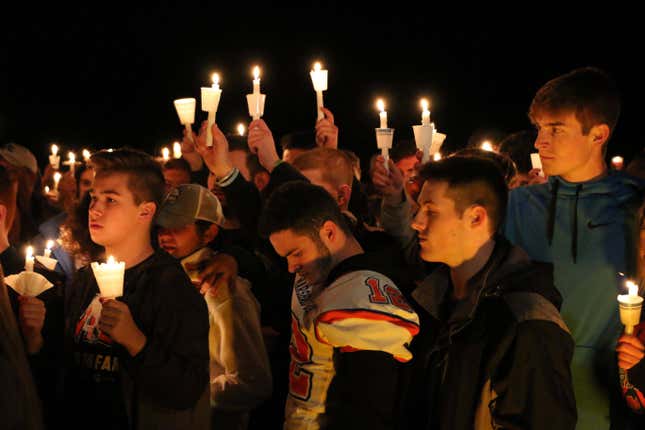 Secret and her husband Jasen rushed to the school, but were unable to get past a police cordon. Students from Marshall were bussed to another school to reunite with their parents. The Holts waited in vain for Bailey to appear.

(The Holt and Cope families didn't respond to interview requests. Several people in town told me that after the families did a round of initial interviews with local outlets, they were taking time to heal and grieve and were no longer speaking to media.)

Parker's mother, Mary Garrison Minyard, is a journalist who's worked for several local papers and is currently the editor of the Marshall County Daily Online. Minyard rushed to the high school when she heard there had been a shooting, only to find that the suspect was her son. A colleague had to arrive on the scene to comfort her and take over the story.
"I held her hair while she threw up," another mother told Ohio Valley Resource.
By the end of the week, Parker was moved to McCracken Juvenile Detention Center, where, according to court documents, he was docile and well-behaved, able to follow the instructions of the staff. A youth counselor wrote in a letter to the court that he was able to "maintain appropriate behavior while in the main population."
"Whatever that kid had going through his mind, I don't know," Secret Holt told WKRN, soon after the shooting, without identifying Parker by name. "But if he needed a friend, I know [Bailey] would've been a friend to him and talked to him about anything he needed, because that's just the kind of person she was."
---
For the people who live through them, mass shootings can seem like a violent misfortune that land out of nowhere, an inexplicable calamity like a wildfire or a hurricane. Certainly, that feels like the case here in Benton, Fritz, the managing editor of the Tribune-Courier, says: "This really changed the fabric of the community."

It isn't, though, the first time it's happened here. The Marshall High School incident was the most violent event in the area in many years; what came before it was another school shooting, in nearby Heath in 1997. Fourteen-year-old Michael Carneal opened fire on a group of students in a prayer circle, killing three and injuring five more. Carneal, a ninth grader who played the baritone saxophone in the school band, is believed to have stolen the guns used in the shooting from a neighbor's garage. In a letter from prison in 2010, he talked about suffering delusions at the time of the murders, including hallucinations of murderous monsters called "the danes" whom he believed would kill him if he told anyone about them.
Fritz has lived in the area most of her life, and she remembers the Heath shooting. "We were glued to the TV for days," she remembers. "We were appalled and saddened. But as they become more frequent, you notice them still, but lose some shock. We shouldn't, really, but we do."
Children who attend school in 2018 are part of what Time has termed the "school shooting generation," a group of students who have never exactly known what it means to feel safe at school. A recent analysis by the Washington Post found that school shootings are still relatively rare, one tiny piece of tile in the vast, blood-spattered mosaic that makes up gun violence in the United States. But they have an intense psychological effect, a sweeping change in how kids feel between bells, how education is conducted, and what's become routine: active-shooter drills, parents talking to their kids about how to prepare for violence if it ever strikes their classrooms.
Fritz wasn't surprised by what happened nationally with the Marshall shooting, which barely captured the nation's attention for a day. Much of that coverage focused around the fact that it was the eleventh mass shooting this year, despite it only being late January; people also noticed that President Trump didn't immediately have much to say about it, while Canadian prime minister Justin Trudeau offered his public sympathies within hours. (After a day or so, Trump tweeted about the shooting, pledging his support for Benton.)
Lindsey Coleman, a 21-year-old cafe server, told me that the community is, as you'd expect, far from recovered. ("It's been awful.") She's a Marshall graduate, and says the day of the shooting was vividly terrible: "Everyone in here was crying all day long." She knew plenty of the students affected by the shooting, and held her breath until one of her regulars, a beloved local kid, got out of the hospital and was able to come back in and order his usual.

"Everybody knows everybody here," Fritz agrees. "And everybody was impacted in one form or another. But people show up to help each other if there's a tragedy." Since the shooting there have been a multitude of fundraisers: concerts, barbecue dinners, disc golf tournaments, in all raising half a million dollars so far, from a community where many people don't have a lot of extra to give.
People in Benton stressed this part of the story to me, that the town and the county united swiftly and thoroughly to support each other and help the bereaved families. "People came together like I've never seen before in my life," Coleman says.
But as a town, they're also beginning to focus on what they consider to be the root causes of the tragedy, a process that's been much less straightforward here than it has been in Parkland. There have been discussions about single parenthood, social exclusion, the wisdom of metal detectors and, of course, video games.
"There were the initial rumors about bullying, but they've kinda been dispelled," Fritz says. "Video games are a consideration too. No matter what your opinion is on gun control, there's a lot of factors."

There is no actual scientific evidence of a link between video games and violence, though it has reliably come up after every school shooting from Columbine to the present. But the video-game explanation has a surprising amount of currency here, and seems to be gaining even more traction as time goes on. Two days after Parkland, Governor Matt Bevin declared to the AP that school shootings are "a cultural problem," blaming video games for helping promote "a culture of death." 
"We have become desensitized to death, we have become desensitized to killing, we have become desensitized to empathy for our fellow man," Bevin told the AP. "And it's coming at an extraordinary price and we have got to look at the root causes of this."

Disbarred Florida attorney Jack Thompson, an infamous anti-gaming activist, has been beating this particular drum since the late '90s. Perhaps his earliest nationally-publicized case followed the Heath shooting, when he sued the makers of video games and other entertainment that shooter Michael Carneal had purchased. Thompson contended that Carneal had been inspired to commit the crime by internet porn, Jim Carroll's memoir The Basketball Diaries, and by video games, including Doom, Quake, and Mortal Kombat.
In a dizzying bit of deja vu, since the Benton shooting Thompson claims to have been in contact with Marshall County Attorney Jeff Edwards, offering his dubious pro bono assistance to Edwards' office. "What happens in the case of heavy users of video games is that when they have the virtual reality taken from them, they will set out to make it real reality," Thompson told Fritz for an article in the Tribune-Courier. "They do this without being fully appreciative of what they are about to do." This sort of thing should be taken in the context of it having been widely reported that police claim that in searching Parker's room, they found a "video gaming history" that showed he was playing games related to World War II, and that he told investigators he was "into the history of that war."
One local parent, who requested anonymity to talk freely about her small community, told me she thinks the focus on video games and other factors is a way to avoid making any real change. "They think what's going on in Florida is ridiculous," she said, a little bitterly. "How those teenagers are standing up. I'm all for it, but that's not happening here." Most people in Marshall County, she says, "just want it to go back how it was."
---
Natasha Harrell, whose daughter attends Marshall, acknowledges that she has conflicted feelings about the activism in Parkland. "I'm glad we don't do that here," she says. And she doesn't support any particular gun control measures, though she'd like to see better security at the school. "We need metal detectors there," she says. "Not just wands." (Marshall started using metal-detecting wands in February, and students are also required to have their bags checked on entering the building.)

Yet Harrell does see a distinction between hunting rifles like the kind she grew up around and a weapon like an AR-15, and sounds slightly relieved when considering how much worse Marshall's shooting could've been. "If he'd had that kind of weapon," she says of Parker, shaking her head, "a lot more people would've died."
Danny Starks owns the local hardware store, where you can buy rifles and AR-15s; they lean right there in a corner against the wall. He's also a parent, whose daughter goes to Marshall and who was present the day of the shooting. Starks says that AR-15s aren't particularly popular in Benton, though a few people like them for target practice. Like Harrell, he's not particularly persuaded by the idea that the shooting was a "gun problem," as he puts it. "The problem is more in the mind and in the heart."
Starks told me he thinks any renewed discussion of guns in the wake of the Parkland and Benton shootings is more of a media creation than anything else. "You know how stuff blows up," he says, shrugging. (His daughter, he says, was "fine" when she went back. "It's school.")

Another parent, whose child was injured in the shooting, recently wrote on Facebook that he doesn't support new gun control measures either.

"I would like to start off saying that stricter gun laws will not solve evil," the parent, who didn't respond to an interview request, wrote. "First, God needs to be in control at all times. If we all lived according to his will this wouldn't be happening. Second people need to stop marrying for lust and marry for love. So many children are raised in single households it's unreal. Lack of a father figure can cause a lot of mental issues throughout a child's life. Third is accountability and discipline. Hold your children accountable when they do wrong and discipline them when they do wrong. Fourth and lastly, forget people's feelings if someone looks suspicious tell someone, tell everyone. People's feelings aren't worth lives."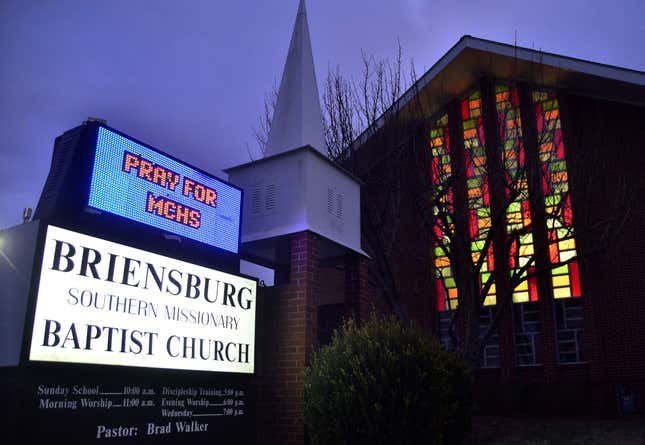 "We cannot control guns, period," Barbara Cross told me. She's 72, a self-described "old hippie" who has lived in the area most of her life; she recently retired after running a junk company with her husband. "It's like trying to control a bumblebee." Cross sleeps with a pistol nearby and a hunting rifle not far off, she told me. She, too, saw a lot of sense in the video game argument: "I'm a firm believer that it has a lot to do with TV and video games." She'd like to see two things back in public schools, she says: "Prayers and paddles."

---
The teenagers who survived the Parkland shooting have been valorized, and they should be. They're outspoken and brave, and even in the midst of pain and grief, they're flinging themselves at one of the country's most intractable problems.

But on a personal and community level, other responses are reasonable too. What I saw in Benton is perhaps best described as gun fatalism: a sense that mass shootings are an unsolvable problem, or at least one that can't be addressed through any new laws or legislation. The people in Benton told me they saw both guns and evil as a fact of life, and emphasized that their combustible combination was inevitable, some of the time.
That's an attitude that's been heavily encouraged by the NRA, with their fanatical opposition to any new gun laws. The group has spent the decades since the 1970s building the myth that the rights of individual gun owners are synonymous with an industry regulated as little as possible. And it's backed by NRA-supporting politicians like Wesley Morgan, a state representative out of central Kentucky.

"All the gun laws in the world wouldn't have prevented what happened in Florida," he told the Courier-Journal in February. "I just don't think there's an appetite among the representatives to change anything that would restrict someone's Second Amendment rights."
That phrase—"among the representatives"—is an important one. Nationally, support for stricter gun laws has spiked, according to a recent poll from Quinnipiac University, with 66 percent of voters saying they support it, versus 31 opposed. Support for universal background checks is nearly unanimous. That's even though 30 percent of us have guns, and 30 percent of those people have five or more. But for some reason, though, mass shootings in schools produce a different response: Quinnipiac found that only 40 percent of voters believed stricter gun control would reduce gun violence in schools.
In conservative states like Kentucky, that lack of clear, overwhelming consensus about causes and effects is leading to a muddled response. Kentucky Republicans have filed bills since the Marshall shooting that would make guns even easier to have in public places, including one that would allow them on college campuses and keep them from being banned in government buildings. Another proposal would allow concealed deadly weapons to be carried without a license "in the same locations as concealed carry license holders may carry them," the Lexington Herald-Leader reports.
Another bill would put more mental health professionals in schools, one for every 1,500 students, although it hasn't been clearly determined where the money for that initiative would come from.
Kentucky Democrats, meanwhile, are proposing a bill that would ban bump stocks, create a registry of firearms offenders, and mandate that lost or stolen firearms be reported to police within 72 hours.
"I believe that the public demand is greater now than it has been in the past," Rep. Chris Harris, a Democrat from Forest Hills, told the Courier-Journal. "Every citizen should be pushing us to have these kinds of discussions ... and I take my hat off to my colleagues who are standing up to the NRA."
Just one bill even remotely touches on the alleged circumstances of the Marshall shooting: Kentucky House Bill 301, which would make it a misdemeanor to leave guns unsecured around minor children. The bill was filed in January. In early February, House Judiciary Chairman Joe Fischer, a Republican, told the Herald-Leader he hadn't read the bill. It's since stalled in committee.
People in Benton are correct that in some sense it's impossible to prevent every mass shooting, whether it's in a school, a movie theater, a mall, a church, or whatever unthinkable place it occurs next. In the case of schools, some of the difficulty lies in just how quickly and brutally the violence occurs. The Washington Post analysis found that most school shootings aren't mass shootings, but targeted ones: brief, shocking incidents of violence that are the culminations of feuds or abusive relationships. The most recent school shooting—at the moment I write this—killed 16-year-old Jaelynn Willey. The shooter was allegedly her ex-boyfriend, who also shot a 14-year-old boy. The entire incident took only a few minutes before a school resource officer intervened.
But there's a difference between the reasonable, sensible resignation I saw in Benton—there are a lot of guns and a lot of bad people in the world, and sometimes the two will meet—and the crudely self-interested attempts on the part of gun manufacturers and politicians to pretend as though there is nothing they themselves could possibly do. And those of us, like me, who grew up in houses with guns, will recognize that their presence alone doesn't create a school shooter.
But there's very little question that this particular shooting was able to occur because the teenager involved was, allegedly, able to get access to an unsecured firearm. Access to guns at home is a common thread in school shootings; a 2004 report from the Department of Education and the Secret Service found that two-thirds of guns used in school shootings were ones that the shooters got from their own homes or stole from relatives. One accused school shooter, Jesse Osborne, wrote vividly about planning to shoot up an elementary school, and his desire to murder as many people as possible. He was stymied when he couldn't get access to his father's semi-automatic rifle and had to make do with a pistol his father kept unsecured in a dresser drawer. With it, he was able to murder 6-year-old Jacob Hall. Twelve seconds later, the gun jammed and the planned massacre was over.
While there's little to no momentum in Kentucky behind major gun reforms, Marshall County students do have thoughts and desires about how they could feel safer. And those thoughts aren't being heard or considered, locally or nationally, the way those of the Parkland teens have—even as some of them are clearly calling out for the simplest, most basic changes in gun laws. Marshall student Keaton Conner told a local news station, "We need some form of gun control. It should not be as easy as it is. I'm 16 years old, and although the law prohibits me from legally purchasing a weapon, it's not hard for me to do that."

One afternoon at a bakery in Benton, I talked to Keatyn Gamble, an 18-year-old senior at Marshall finishing up the end of her shift in the kitchen. To some degree, she knew everyone who was shot, though she'd never heard of or seen Parker before "in my life," she says. She's inspired by the Parkland teenagers: "I love it, that they're standing up for themselves." On March 14, she and other Marshall students participated in the planned nationwide student walkout. "We have to get our voices heard," she'd told me, a few weeks before.

Like many of the Parkland students, Gamble says the reforms she supports are simple and not exactly anti-gun. "We don't want to get rid of guns," she says. "But they should be harder to buy."

That said, she adds, "I feel like while a handgun's just as dangerous under some circumstances, if ours was like Parkland, it would've been worse. No question."
Other students say it's not a consideration for them. Jessica Wilcox is a 17-year-old senior at Marshall who was also present on the day of the shooting. "Most of my fellow classmates aren't worried about gun laws," she told me in an email. "We just want to know and feel that we are safe."
When March 14 came, the walkout looked a little different at Marshall County High. Students reportedly said it was meant to be a "non-violent, apolitical protest" to show legislators they didn't feel safe at school. The same day, an op-ed ran in the Herald-Leader, written by three student organizers who called for "the gun violence discussion" to "go beyond guns." They backed some of the mental health approaches and encouraged more social and emotional support among students (though there is, again, no consensus that Parker was bullied:
A preventative approach means we must consider such things as whether our discipline policies are constructive and rehabilitative and fairly administered. We must evaluate students' mental health so they can get the help they need and ensure that school counselors are better resourced and less overwhelmed by their caseloads. And we must build capacity in young people and adults to support each other socially and emotionally.

Rather than talking about hardening our schools, we should be talking about creating more compassionate ones.
The walkout at Marshall High was also, curiously, closed to the media. What was a public cry for reform in other cities became a private demonstration in Benton, meant to honor Bailey Holt and Preston Cope but not, in any global sense, consider what led to the tragedies of their deaths.
It's a lot to ask high school students who've just been through a life-altering trauma to come up with a coherent set of policy proposals when the adults around them have failed to do so for decades. In the meantime, as the state and the country muddle through this debate yet again, Gamble, the Marshall senior, says she's proud of her community, the way they've come together, and proud of the senior class. "We've stood up and been the voice of the whole school," she says, including many seniors watching out for the emotional well-being of freshmen and sophomores, some of whom had more trouble returning to school afterwards than the older kids.
Gamble herself is planning to become an elementary school teacher, a decision that feels much weightier than it did a year ago. "I talked to my mom about it," she says. "And I know teaching can be a big risk, with things like this. But knowing what we went through, it just makes me want to be a teacher even more."
Correction: An earlier version of this post misidentified Rep. Wesley Morgan as representing western Kentucky. He represents Madison County in central Kentucky.