Last week, a group calling itself the Center for Medical Progress (CMP) released an undercover video claiming to show a Planned Parenthood physician selling body parts harvested from fetuses. Though the video was heavily edited and didn't show anything illegal—tissue donation is both legal and heavily regulated the federal government—it lead to an apology from Planned Parenthood president Cecile Richards and launched investigations in three states.

According to a new report from Huffington Post, the nonprofit who released the video may have "deceived" the IRS about its mission. Many news agencies, including Slate and the Nation, have already linked the CMP to pro-life political groups, including Live Action and the radical Operation Rescue. Yet despite their clearly political agenda, the group is registered with the IRS as a biomedical charity.
Laura Bassett at HuffPo reports:
According to new research by the Bridge Project, the policy arm of the progressive group American Bridge, the IRS granted the Center for Medical Progress tax-exempt status as a 501(c)3 nonprofit in 2013 under the classification code G92, which applies to biomedicine charities. In the National Taxonomy of Exempt Entities, which is used by the IRS, that classification covers "Diseases, Disorders, Medical Disciplines: Biomedicine, Bioengineering." So-called "right to life" groups, defined as groups that "support the passage of legislation which assigns legal rights to the unborn and seeks to criminalize the termination of unwanted pregnancies," have their own classification code with the IRS.

The IRS likely mistook the Center for Medical Progress as a biomedicine charity if the group described itself on its application much as it described itself on its original website: "a non-profit organization dedicated to informing and educating both the lay public and the scientific community about the latest advances in regenerative medicine, cell-based therapies, and related disciplines. We take a special interest in the lab-to-clinic translational dynamic and tracking its implications for academics, advocacy, private sector players, and the individual patient."
While IRS forms sound wonky, Bassett points out that they are signed under the penalty of perjury. If CMP knowingly deceived the IRS in its mission, then it opens the group and its founder, David Daleiden, to civil and criminal charges of fraud. Those charges, Bassett notes, can result in both fines and jail time.
Planned Parenthood hit back hard when HuffPo asked for a comment, "This group's outrageous claims about Planned Parenthood are flat-out lies, so it should be no surprise that they also lied and may have broken multiple laws in order to pull off this smear campaign."
G/O Media may get a commission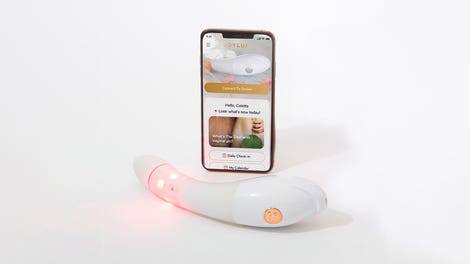 $50 Off
Joylux vFit Gold Device
Image via Getty.