Lots of good things are happening in New Zealand right now! The latest—on Wednesday night, the country's lawmakers passed a groundbreaking bill that, for the first time anywhere in the world, will grant domestic violence survivors paid leave, with the goals of lessening the economic impact many people experience when they leave their partners and removing one of the main barriers that often prevent people from severing abusive relationships.
For people who need, for example, to take time off to file a restraining order or move to a new home, they will now be able to take 10 days off from work to do so. The Guardian provided more details on the legislation:
Domestic violence victims do not have to provide proof of their circumstances, and will also be entitled to fast-tracked flexible work conditions designed to ensure their safety, such as changing their work location, changing their email address and having their contact details removed from the business's website.

As the Guardian reports, New Zealand has one of the highest rates of domestic violence among economically developed countries, with police responding to an incident every four minutes. (Rates in the United States, in contrast, are astronomically higher—according to the National Coalition Against Domestic Violence, one American is physically abused by an intimate partner every three seconds.)
New Zealand Green MP Jan Logie, the sponsor and driving force behind the bill, explained why it's critical to offer workplace protections to people who are leaving abusive partners:
"Domestic violence doesn't respect that split between work and life. A huge amount of research tells us a large number of abusive partners bring the violence into the workplace. Be that by stalking their partner, by constant emails or phone calls or threatening them or their workmates. And some of that is about trying to break their attachment to their job to get them fired or get them to quit so they are more dependent on their partner. It is very common."
G/O Media may get a commission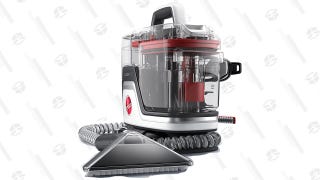 Save $10
Hoover CleanSlate Plus Carpet & Upholstery Cleaner
Logie argued that other countries should follow New Zealand's lead. Agreed!