NewsHour co-host and legendary political journalist Gwen Ifill died Monday at the age of 61, PBS has revealed, reportedly from cancer.
Remembering Gwen Ifill_1.mp4
Since 2013, Ifill and Judy Woodruff have been co-hosting NewsHour on PBS. When the pair got the job, it was the first time two women had co-anchored a nightly news show. In the past year, Ifill has taken breaks from her chair for unspecified health issues, including one several weeks long this past spring. She also did not work during Election Night last week.

Ana Gasteyer Satirizes the Girl Boss in 'American Auto'
The daughter of "a man I call an 'accidental feminist,'" Ifill was born in New York City in 1955. She attended Simmons College, where she majored in communications, and from there went on to work for a bevy of respected news outlets, including NBC News, The Washington Post, The New York Times, The Baltimore Sun, and The Boston Herald. Ifill came of age when journalism was even more hostile towards non-white faces than it is now; as an intern at the Herald, and the paper's first black woman employee, she came to work one day to find that someone had left a note on her desk that said "Nigger, go home." As she told Makers:

My first thought was, I wonder who this is for? It didn't occur to me at first that this was directed at me because who would call me this name? I took it to my boss and said, oh look at this, kind of wide-eyed. He was horrified. He apologized profusely, and said, if you ever need a job, you can come back here after you graduate from college.
G/O Media may get a commission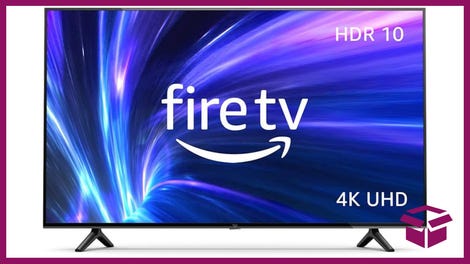 42% Off
Amazon Fire TV 50" 4K Smart TV
Ifill has moderated multiple vice presidential debates (in 2004, she became the first black woman to moderate one) and published the book The Breakthrough: Politics and Race in the Age of Obama in 2009. Unsurprisingly, news of the book's release drew ire from conservatives, who used it to argue that she was unfit to moderate the 2008 debate because she was "pro-Obama"; in response, Ifill said, "Since I haven't finished the book, it's interesting people think they know what's in it." Here's a great moment of her shutting down Don Imus, who had previously referred to her as a cleaning lady, after his racist comments about the Rutgers women's basketball team in 2007.
Ifill was going to receive Columbia Journalism School's John Chancellor Award for excellence in journalism on Wednesday evening.
"Gwen was one of America's leading lights in journalism and a fundamental reason public media is considered a trusted window on the world by audiences across the nation. Her contributions to thoughtful reporting and civic discourse simply cannot be overstated," said PBS's President and CEO Paula Kerger. The statement continued:

She often said that her job was to bring light rather than heat to issue of importance in our society. Gwen did this with grace and a steadfast commitment to excellence. Our sorrow at her passing is a part of our profound gratitude for all that she did for our system and our nation. it was an hour to know Gwen and to work with her. All of us at PBS express our sincere condolences to Gwen's friends and family.
Remembrances have poured in, like this one from Pete Williams, reporting live and on-air, about Ifill:
"I always appreciated Gwen's reporting, even when I was on the receiving end of one of her tough interviews," President Obama said today in a press conference.
This is a breaking news post and has been updated.