He skated into our hearts with the warmth of a ray of sunshine, orange fur vibrant in the arena lights. His name is like a seductive whisper in our ear: Gritty. He's the new mascot for the Philadelphia Flyers (that's hockey), an undeniable talent and, somehow, our first true fall crush.

According to his official bio on the NHL website, Gritty's got some edge, but he's also a big sweetie who loves hot dogs (like our Megan Reynolds) and eating snow (like a young Clover Hope), a "loyal but mischievous" guy (like all of us.):
His father was a "bully," so naturally he has some of those tendencies - talented but feisty, a fierce competitor, known for his agility given his size. He's loyal but mischievous; the ultimate Flyers fan who loves the orange and black, but is unwelcoming to anyone who opposes his team. Legend has it he earned the name "Gritty" for possessing an attitude so similar to the team he follows.

He claims that he's been around for a lot longer than we know it, and recent construction at the Wells Fargo Center disturbed his secret hideout forcing him to show his face publicly for the first time. He has some oddities that are both humorous and strange. A number of times he's been caught eating snow straight from the Zamboni machine, and unbeknown to most, his love of hot dogs has been inflating the Flyers Dollar Dog Night consumption totals for years. That being said, there's no denying that he's one of our own.
The guy can dance:
G/O Media may get a commission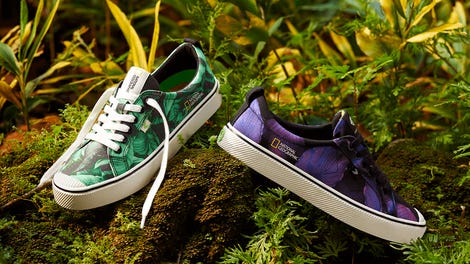 New New New
Cariuma + National Geographic
And just like the Phillie Phanatic before him, we've got the hots for Philly's Gritty. The timing couldn't be more ideal: days after we broke up with To All the Boys I've Loved Before hunk Noah Centineo, this lovable orange heartthrob entered our heads and hearts. We're writing him notes, we're planning perfect dates, we're basking in the joy that is a completely harmless and fine adult crush.
---
Megan Reynolds: GRITTY.... J'ADORE.

Maria Sherman: I like Gritty in a fucked up way, which is coincidentally my relationship to Philadelphia.
Clover Hope: He seems like a ball of fun.
Kelly Faircloth: Gritty is someone you can laugh with, you know?
Megan Reynolds: Fuck, I'm in love.
Stassa Edwards: I like Gritty's eyes. Men should have googly eyes.
Megan Reynolds: [They're] kind and also psycho. We are a Gritty appreciation blog now.
Kelly Faircloth: Honestly, I bet Gritty would listen to you rant for three hours about the news cycle.
Megan Reynolds: Gritty is a supportive partner and Gritty will let you practice fishtail braids on his hair if you don't wanna fuck your's up first. Gritty Is an Ally.
Maria Sherman: A real gentle giant.
Kelly Faircloth: I mean, honestly, [those] nonthreatening googly eyes are kinda working for me right now.
Ashley Reese: I would [do Gritty] because he seems like a fun guy who knows how to have a good time. But I don't think he's the type who wants to be in a serious relationship?
Megan Reynolds: His belly, which is circular and shaped like a hula hoop, is probably hiding sizable d.
Ashley Reese: He's thicc!
Megan Reynolds: Ya, Gritty thicc.
Ashley Reese: A Big Boi.
Megan Reynolds: I hear this song when I think of Gritty:
Clover Hope: I feel like Gritty might be my soulmate, given the snow-eating.
Ashley Reese: Gritty is a BAD THING. FINE AS HELL. THICK AS FUCK.
Kelly Faircloth: Gritty's a guy who just doesn't move very fast and is always very deliberate and that extends to all things.
Stassa Edwards: Gritty would let me wear sweaters and my only desire is to wear a sweater but it's 95 degrees outside.

Megan Reynolds: Stassa, you could make a sweater outta Gritty.
Clover Hope: Aw, he would be warm to cuddle with.

Kelly Faircloth: If he isn't afraid to look goofy in the [dance] video, he isn't shy about doing! what! it! takes!
Megan Reynolds: Gritty might cry during sex, that's neither here nor there really, just a thought. [He's] genial but not overly sensitive.
Kelly Faircloth: I'm going to get my back genially broke by Gritty.
Stassa Edwards: Gritty also seems like a guy who would never say "Okay, but don't you think MeToo has gone a little far?"
Frida Garza: We'd be friends!

Stassa Edwards: You'd go home and yell about the news cycle and Gritty would just look at you empathetically with his googly eyes.
Kelly Faircloth: When Gritty encounters a Bad Man he frowns and says "fucking WAY not cool, man" and you know what? He means it down to his soul.
Stassa Edwards: I'm realizing Gritty is all I want in a man: pro-sweater; warm; cuddly; has no opinions on sexual assault.
---
Beyond all the fantasizing, what really makes Gritty our fall crush is simply that he doesn't/can't talk, and that he's basically a walking cardigan. Hand him a hot toddy or a pumpkin spice latte (pick your poison) and there's nothing goddamn cozier.