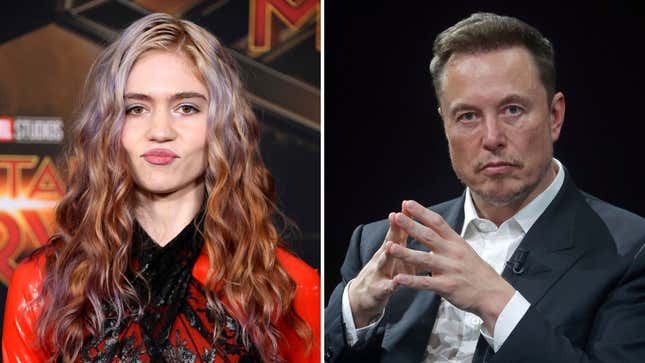 Every morning before the work day begins, I list three things in my life, big or small, that I'm grateful for. And today, I am counting my lucky stars never to have endured Elon Musk's courtship routine.
Infamously Thin-Skinned Man Joins Twitter's Board
Author Walter Isaacson, who is working on the forthcoming biography of Musk for Simon & Schuster for some reason, posted an excerpt of the book to Twitter. The snippet details the origin story of Musk's relationship with musical artist Grimes, who would go on to become the mother of their children X Æ A-XII and Exa Dark Sideræl. (Gesundheit!)
Especially riveting is the description of the duo's second date: Peacocking as only a multi hyphenate founder could, Musk wanted to show off his Tesla's Autopilot feature, so he took his hands off the wheel, covered his eyes, and let the car drive itself. "I was like, oh shit, this guy is fucking crazy," Grimes told Isaacson. "The car was signaling and changing lanes by itself. It felt like a scene out of a Marvel movie."
Of course, Tesla's own Model Y Owner's manual, as referenced by People, advises drivers against operating the vehicle in this manner. The "cabin camera can determine driver inattentiveness and provide you with audible alerts, to remind you to keep your eyes on the road when Autopilot is engaged," it reads. A man who defies his own safety rules sounds like a flaming red flag to me, but to Grimes: Enchanté!
The ex-couple's first date, as described by Isaacson, sounds equally as ostentatious. After connecting over their shared love of the concept of Roko's basilisk, ("a thought experiment which posits that artificial intelligence could get out of control and torture any human who had not helped it gain power," Isaacson writes), Musk invited Grimes to visit the Tesla factory in Fremont, California, where she was treated to a "rapid-fire" trivia test about Lord of the Rings. "That [Grimes passing the LOTR test] mattered to me," Musk told Isaacson.

"We just walked the floor all night, and I watched him try to fix things," Grimes added. (Notice her inclusion of the word "try" here.) Grimes then returned Musk's efforts by gifting him a box of animal bones she'd collected, and the couple went on to date for three years. A love story for the ages! 
---