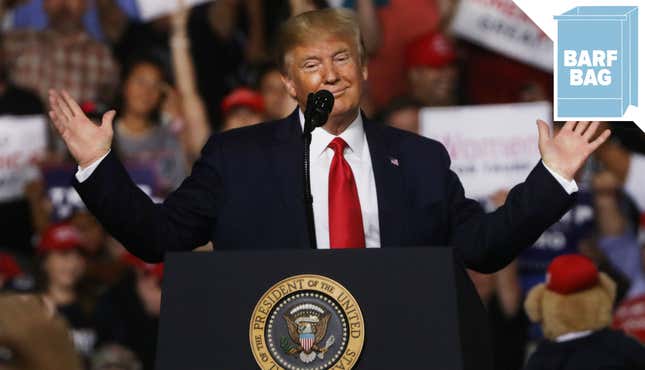 I've got nothin'.
Here's all the shit we couldn't cover today:
President Trump has reportedly discussed the idea of purchasing Greenland, the autonomous Danish territory perhaps best known for not being particularly green. In response, the government of Greenland has released a statement, noting that Greenland is, "open for business, not for sale." Danish officials have also found Trump's interest pretty fucking laughable. [BBC]

Congresswoman Rashida Tlaib will no longer visit the West Bank due to what she called "racist treatment" and "oppressive conditions" from the Israeli government. Tlaib made this decision hours after Israel granted her permission to visit the country on "humanitarian grounds" to visit her grandmother, a reversal from Israel's decision Thursday to ban Tlaib and fellow Muslim Congresswoman Ilhan Omar from entering the country due to their support of the BDS movement. To call this a clusterfuck would be putting it mildly. [USA Today]
Trump mistook a supporter for a protester at a rally in New Hampshire Thursday night, saying the man has a "serious weight problem" and should "go home" and "start exercising." Trump called the man, Frank Dawson, later from Air Force One to apologize. Dawson told Fox News, "Everything's good, I love the guy. He's the best thing that ever happened to this country." Christ. [CNN]
The Trump administration wants to make it harder to file for unintentional housing discrimination. [ABC News]
Obama gave Biden some advice about this whole running for president thing. Sigh. [New York Times]
The Mooch says Trump is losing his marbles. [Newsweek]
Hong Kong protesters are calling for a boycott of Disney's live-action Mulan after the film's lead actress wrote a social media post in support of the Hong Kong police officers. [CNN]
McConnell's shoulder is okay. Hm. [AP]
Beto O'Rourke is calling for mandatory gun buybacks. [Politico]
And here's Andrew Yang dancing:
Other presidential candidate Tim Ryan interacted very earnestly with a harmless Lady Gaga tweet:
And here's... presidential candidate John Delaney.


Here are some tweets the president was allowed to publish:
This has been Barf Bag.