The Arizona House and Senate have passed legislation that lets businesses refuse services to gay people on religious grounds.
Obviously not satisfied watching Kansas dance in all the bigotry limelight, Arizona now has their own anti-gay "religious freedom" bill. ABC News describes what the bill would do, specifically:
The bill allows any business, church or person to cite the law as a defense in any action brought by the government or individual claiming discrimination. It also allows the business or person to seek an injunction once they show their actions are based on a sincere religious belief and the claim places a burden on the exercise of their religion.
Unsurprisingly, the Republican-sponsored bill passed along party lines in the Senate, in a vote of 17-13. Republicans are gleefully spinning the bill as an anti-discrimination measure. (HAHAHA WHAT?)
Sen. Steve Yarbrough, a Republican from Chandler, says the bill is to protect people's rights. "This bill is not about discrimination," Yarbrough said. "It's about preventing discrimination against people who are clearly living out their faith."

"We all have the right to our religious beliefs," Gallardo maintained. "But I do not agree that we have the right to discriminate because of our religious beliefs. I do not believe we have to throw our religious beliefs to others that don't share our same beliefs."
G/O Media may get a commission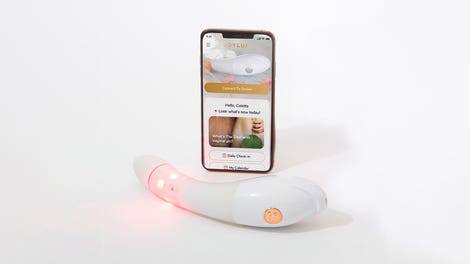 $50 Off
Joylux vFit Gold Device
VOMIT.
Gallardo says business should put up signs that indicate their anti-gay policies. I can't wait for the Buzzfeed "10 Ten Most Homophobic Arizona Business Signs" listicle to come out of that debacle.
Democrats are pointing to ways this could be disastrous for Arizona businesses, and with good reasonreason, according to the Arizona Daily Star:
Sen. Lynne Pancrazi, D-Yuma, said that, issues of discrimination aside, the legislation is bad for business. She fears Arizona would face the same boycotts it did when former Gov. Evan Mecham rescinded a state holiday honoring slain civil rights leader Martin Luther King Jr. in the 1980s, and after Arizona enacted SB 1070 in 2010, a measure aimed at dealing with illegal immigration that some saw as an attack on Hispanics.
More on the uphill battle for Democrats, via Opposing Views:
Democrats objected to what they called a legal justification for discrimination, the Arizona Daily Star reports. SB 1062's supporters just defeated a different measure that would extend employment protections to sexual orientation.
On Thursday evening, the House gave their approval to the measure as well. From ABC News:
The 33-27 vote by the House sends the legislation to Republican Gov. Jan Brewer and puts Arizona back at the forefront of a polarizing piece of legislation four years after the state enacted an immigration crackdown that caused a national furor.
Only three Republicans broke ranks on the bill. (At least there's three sane ones. Yay?) The bill now heads to Gov. Jan Brewer's office, with almost no doubt that she'll sign it
At least some good news tonight—similar legislation that was approved by the Kansas House died in the Senate. So, at least a small sliver of hope that our country isn't slowly turning into an anti-gay wasteland.
Image via Shutterstock.