Do you, by any chance, work at a television station that was part of RKO's syndication network in 1969 and 1970? If so, please check for any remaining tapes from the historically important but sadly apparently lost Della!, America's first syndicated talk show hosted by a black woman.
Depending on your television habits in the mid 1990s, you might know Reese best as Tess from Touched by an Angel. But her entertainment career goes back much further and included an important television landmark. Atlas Obscura explains:
When she was 13, Mahalia Jackson hand-picked Reese to sing in her gospel group, touring with them from 1945 to 1949. This gave way to a multi-genre music career in gospel, jazz, and R&B that peaked in the 1950s. In the next decade, at a time when black women were beginning to become stars on television—Cicely Tyson of East Side, West Side (1963), Nichelle Nichols of Star Trek(1966), and Diahann Carroll of Julia (1968) to name but a few—Reese soon parlayed these wins into roles on the small screen. The first of these forays was with Della!; a producer approached her with the proposition of hosting her own show following a live performance in 1968.
Della! went heavy on the musical performances, understandably, with guests like Marvin Gaye, Gladys Knight, and Linda Ronstadt. But, "We had animals, we had people with gadgets," said Reese in an interview with the Archive of American Television. "It was very interesting format."
"I've been blessed that I have had—I haven't made the money that the other people made—but I've been blessed that I opened the doors so people could get in. And I'm very thankful that they got in and did so well."
G/O Media may get a commission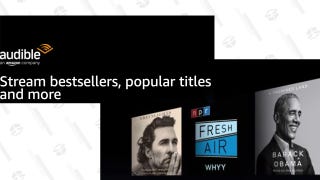 FREE
Audible Premium Plus 3-Month Free Trial
Unfortunately, you'll have a tough time checking out this historic program for yourself. There are just two clips you can watch on YouTube—one of a very glamorously attired Reese performing with Eric Burdon and the group War, knocking them right out of the water, and one of her doing a bit of improv with comedian Lou Alexander.
Otherwise, good luck. Nobody seems to know where the show's archive went, or if it even exists. Reese, now 85, didn't respond to Atlas Obscura's request for comment, and one man who's currently on the case told the outlet that this particular era of television is, generally, an archival nightmare.
"It wouldn't be likely that the importance of a show, the idea that it was idiosyncratic or groundbreaking, would lead to its preservation," John Hubbell, a filmmaker and media archivist based in New York, told me over phone this month. Hubbell has been searching for Della! since 2007—he's been producing a feature documentary of a soul musician whose group guest starred on Della! This led him down a circuitous path wherein he contacted people involved in every level of the show's production hierarchy. Few of them responded. Those who did admitted they were as befuddled as he was about where the show ended up.
It was very common to reuse videotapes during this period, because they were so expensive—years' worth of Johnny Carson's Tonight Show are also missing, as are episodes of Doctor Who. "The last-ditch solution for finding Della!, in Hubbell's view, would be to adopt a needle-in-a-haystack approach, combing the archives of every station that was once part of the RKO network," concludes Atlas Obscura.
So if you work at one of those stations, might be a good use of your next lunch break. Can't hurt to take a peek, right?