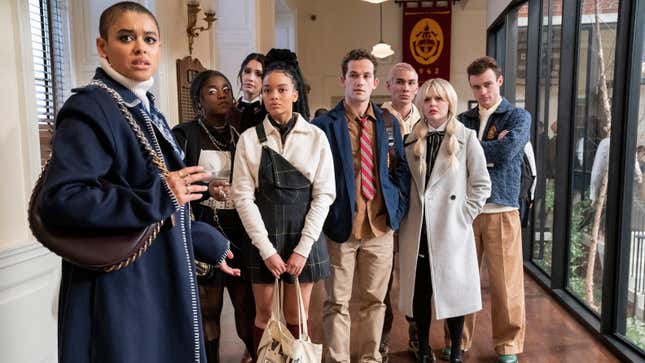 I bring you some… news—good or bad, it's up to you: HBO Max's Gossip Girl reboot has been canceled after two seasons, the streamer announced on Thursday. That doesn't necessarily mean the show is over-over; its executive producers are reportedly seeking out a new home for the reboot. Yet, for all the heartbreaking cuts that streamers like Netflix and HBO have made in recent months, I'm not sure that the second coming of Gossip Girl really needs to be saved.

'Bridalplasty' was the Frankenstein's Monster of Reality Shows
This Gossip Girl, which premiered in 2021, emerged as one of a few highly anticipated reboots alongside Sex and the City's And Just Like That..., premiering at roughly the same time. There's certainly a major appetite for Y2K and '90s nostalgia right now, yet, nonetheless 2021's Gossip Girl failed to pick up any traction, or tap into the massive fanbase of the original. I have some guesses as to why.
When the show—which follows a new generation of ultra-rich, noticeably more diverse teens at the same elite prep schools of the original—was first announced, I remember wondering if it was even culturally possible for a show like Gossip Girl, which aired from 2007 to 2012, to air today. The original was a show about rich, straight, white people being callous and cruel, a show about obscene and uninterrogated privilege, not to mention myriad student-teacher, minor-adult sexual relationships. The creators immediately plugged into critiques like this and fired back. Ahead of the reboot's release, showrunner Josh Safran told Variety, "These kids wrestle with their privilege in a way the original didn't. In light of [Black Lives Matter], in light of Occupy Wall Street, things have shifted."
The descriptor from Safran was immediately mocked into oblivion, particularly by the original show's millennial fanbase. "A 'Woke' Gossip Girl? Millennials Recoil at the Idea," one W magazine headline from June 2021 read. "Was Blair Waldorf aware of the Iraq War?" the article reads. "That wasn't a question the original Gossip Girl had much interest in answering, even as its first season and a half aired while George W. Bush was president."
Yes, the original Gossip Girl is wildly out of touch, but was that perhaps key to its charm?
Fast forward to today. In the Gossip Girl that premiered last summer, we're introduced to still-ultra-rich but also vaguely radicalized teens, who go to Black Lives Matter protests, are openly queer and poly, and want their parents to pay more in taxes. Don't get me wrong—in real life, that's just great! But, throughout the reboot, the portrayal of all of this felt disingenuous and somehow more out-of-touch than rich people just being their bad, nasty selves. It comes off as cringe overcompensation, like every stereotype of what rich, older executives think progressive zoomers want to see without actually asking us.
In fairness to the Gossip Girl reboot, it's streaming amid an oversaturated market of "rich people are bad" fare, between the critiques levied by The White Lotus, or recent movies like Triangle of Sadness and The Menu. Then, of course, the trailer for Netflix's You Season 4 features a serial killer self-styled as the "eat the rich" murderer, and a new ensemble cast of rich assholes. There's clearly a real demand for content like this. And I think, on some level, that's what the Gossip Girl reboot was going for—but it missed, because its characters who are critiquing and fighting the capitalist, exploitative systems in question are its literal beneficiaries, making everything feel insincere and weird. As some Twitter users pointed out, some of us—a lot of us!—just want "some obnoxious escapism" on our screens.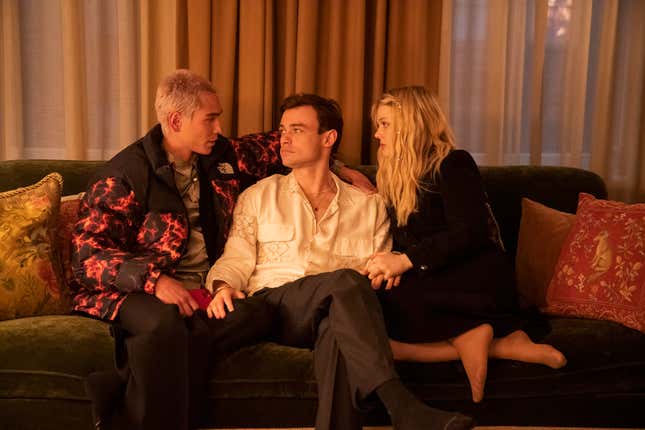 This iteration of Gossip Girl had its strengths, like its gentle, honest rendering of Akie Menzies' (Evan Mock) exploration of his bisexuality, and his tender and very genuine journey exploring a throuple with long-time girlfriend Audrey Hope (Emily Lind) and their friend Max Wolfe (Thomas Doherty). But beyond this, and the show's contrived displays of teen activism, all of its other stunts had the cadence of throwing spaghetti at the wall in desperation, trying to see what sticks: incest storylines, a student-teacher affair written in to condemn student-teacher affairs, cheating gay dads on Grindr, Obie (Eli Brown) trying to send his mom to prison (??), teachers running the fictional Gossip Girl Instagram account and posting semi-nude photos of their minor students—you name it! None of it really lands.

Now, the original show had its absurdities: Georgina convincing Dan they had a baby together, Chuck Bass' dad dying and then not dying and then dying again, all the women Chuck thought were his mom, Serena thinking she killed a man, Blair and Dan falling in love for five minutes. Yet, it was camp; it sparked joy; it was crazy without questioning itself, without moralizing and grandstanding, without constantly pulling you in and out of the "real world," as the reboot does. The writing was witty, hilarious, and iconic across generations. Was the original Gossip Girl high-brow cinema? Not exactly. Did it work? Absolutely.
The Gossip Girl reboot, in contrast, doesn't really add anything new to the mix. Euphoria and Riverdale have wild teens doing outlandish, deeply age-inappropriate things down pat—and both without eye-roll-inducing scenes of rich, guilt-addled teens at Occupy Wall Street-esque rallies. I never celebrate the cancelation of shows and the possible unemployment inflicted on cast and crew—I'm simply saying that of all the truly wonderful content that's been axed lately, I'm not especially sad to see Gossip Girl 2 go.