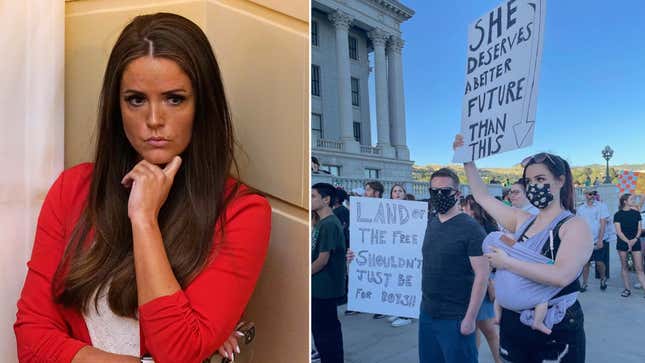 A Utah state lawmaker who introduced an abortion ban requiring rape victims to report their rape to law enforcement for limited abortion access is being very publicly challenged by her sister, a rape survivor.

Uterus Weekly: 15-Week Abortion Bans
State Rep. Kera Birkeland (R) introduced a bill last week to further ban abortion in Utah, which currently limits it at 18 weeks. Birkeland's bill would ban abortion at any point in pregnancy with few stated exceptions, including severe health risks for the pregnant person, lethal fetal defects, or cases of rape and incest—however, the bill requires rape victims to report the assault to police in order to qualify for the exemption. It's a jarring requirement, given that the overwhelming majority of rapes aren't reported to law enforcement, often due to a very real fear of police.
The cruelty of Birkeland's legislation hasn't been lost on her sister, Samantha Hansen, who wrote in a Facebook post on Monday that "had [filing a police report] been a requirement in 2014, the year I was raped, I don't know that I would be here today." Writing of her sister's anti-abortion stances, "Based on her treatment of me, a rape survivor, and her sister, I believe it is safe to say that Kera [Birkeland] doesn't care about protecting rape survivors."
"It took me well over a year before I was able to file a police report; re-living the smallest details of what happened to me as the police took their report (knowing full well any DNA was long gone, all I could do was hope to create a stronger case for the next girl should she find the strength to come forward sooner than I did) was one of the hardest things I have ever done," Hansen continued.
Birkeland, in turn, told the outlet that she is "an advocate for victims of sexual assault," "[knows] their pain personally," and "[wants] to also hold the offenders accountable." She emphasized that her bill would provide access to cost-free emergency contraception for 72 hours after sexual assaults, free counseling for victims, and coverage of prenatal health care as well as health care for the first year of their baby's life.
None of this, of course, is vaguely interchangeable with the right to abortion without barriers and retraumatizing requirements. None of this compensates for being forced to remain pregnant and give birth after the fact. And, as Hansen has pointed out, none of this makes Birkeland an advocate for survivors. "She talks about 'a brave survivor coming forward,' yet, in 2015, when I began to talk about my rape in hopes of helping others know they are not alone, she never reached out to me after I went public with my story," Hansen wrote in her post. "I was told she expressed to our parents that she didn't believe me." She also told the outlet that when she asked Birkeland to remove her abuser on social media, that Birkeland made fun of and didn't believe her. "To me, she also mocked my abuse, my trauma, and my assault."
Hansen previously shared her story with the Salt Lake Tribune in October in response to an earlier abortion ban that Birkeland supported. She's spoken openly about being a survivor before whilst competing to be Miss Montana in 2016. But last year, in light of the overturning of Roe v. Wade, Hansen added that she'd become pregnant after being raped and had an abortion.
Birkeland's invocation of law enforcement to push her abortion ban is frustratingly typical of anti-abortion lawmakers at this point. In September 2021, Texas Gov. Greg Abbott defended his state's abortion ban—and its noted lack of rape exceptions—by stating that he would simply "eliminate all rapists from the streets," supposedly by giving more funding to the same police officers who do little to nothing to prevent sexual violence and frequently perpetrate it themselves.
But whether or not anti-abortion politicians like Birkeland or Abbott support rape exceptions, the impact of abortion bans on survivors—and all pregnant people who become victims of state-perpetuated gender-based violence—is the same. They face greater risk of long-term domestic violence, or falling victim to the leading cause of death for pregnant people: homicide, oft by abusive partners. We can only protect pregnant rape victims' rights and agency by not banning abortion at all—with or without exceptions that subject survivors to extensive, retraumatizing verification processes to "prove" their rape to law enforcement.