Gossip junkies be not proud. Nor is Meghan Markle's father, so here we are, slathering over this sweet sweet scandal porn, grainy CCTV images proving–PROVING!!!!–that Meghan Markle's father has been staging photos of himself and selling them to a ruthless paparazzo whom the Daily Mail happens to know a lot about! The Daily Mail has obtained security footage of Markle's father and the photographer staging photos in an internet cafe. They asked around at a few other locations, and what they uncovered was, indeed, an elaborate caper involving props, co-conspirators, pay-offs, and lengthy photo shoots.
These events did not occur.
It was all a facade.

G/O Media may get a commission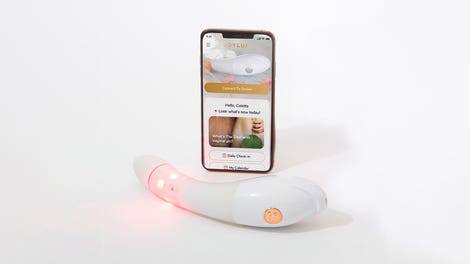 $50 Off
Joylux vFit Gold Device
Vicious lies.

[The above photo actually depicts Markle at a "party shop" with 17-year-old employee David Flores, who was allegedly tipped $15–but who knows what's real?]
Nevermind that Thomas Markle wears the same shirt every day, or that he goes to an internet cafe for any reason other than to check Facebook. What matters here is that the unsuspecting readers of the Daily Mail were led to believe that Meghan Markle's father whiles away the hours googling his daughter, frequenting an outdoor tailor run by a teenage boy, and carrying with him coffee table books of photographs to "read" at Starbucks, and that's WRONG.
The photos initially slipped past the Daily Mail, which published them under such headlines as "Meghan Markle's father Thomas gets measured at a backstreet tailor in Mexico." But do not cross the rags, for they have intel. Enter the accomplice: Jeff Rayner, "Porsche-driving British pap," aka "one of Los Angeles's most ruthless paparazzi." Rayner declined to comment, but the Mail has quotes, somehow, also:
Jeff Rayner, 44, a married father-of-one from Canterbury, Kent, once boasted of earning £18,500 for pictures of Britney Spears shopping on Sunset Boulevard and claims he has a book of celebrity addresses that would be 'a stalker's dream'.

He says of his life: 'I look at my friends back home – getting married, having babies – and here am I, hosing down Britney on Sunset. The trouble is, it's just so lucrative.'

Porsche-driving Rayner bragged about his Mr Markle pictures on his Facebook page by posting a picture of the front page of the following day's The Sun newspaper with the caption: 'Cheeky little hit in The Sun.'
Unnamed "experts" tell the Mail that Rayner could have made over $13,000 for the tailor photo.
Rest easy now, knowing that you know the truth.