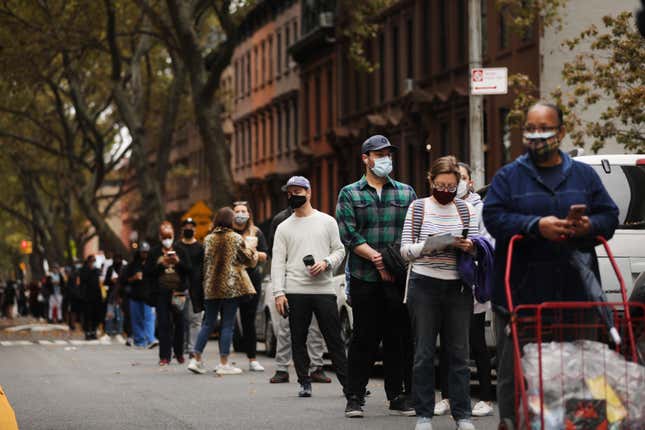 As of Sunday evening, early voting in 2020 exceeded that in all of 2016—and there are still nine days left until Election Day.
Taylor Lautner Doesn't Even Remember Saying 'Bella! Where the Hell Have You Been Loca?'
According to the Associated Press, about 58.6 million people have voted so far, be it by mail, or in person, as compared to 2016, when about 58 million people voted early, total.
Democrats have been significantly more engaged in early voting than Republicans over the last few weeks. This is likely the result of Democrats not buying the president's lies about mail-in voting being fraudulent, as well as the general enthusiasm around defeating him.
On October 15, registered Democrats had cast about 51 percent of all early ballots, whereas Republicans had cast just 25 percent. Around that same time, the New York Times reported that Democratic mail-in voters were overwhelming ballot boxes in key swing states in particular.
But now that in-person early voting is in full swing, Republicans have begun to close the gap a bit more. The latest data shows registered members of Trump's party making up 31 percent of the early vote; they're also expected to turn out in higher numbers on Election Day.
As some have pointed out, these early-voting totals—while very high—might be much higher still, were it not for the hours-long lines many voters are having to wait in. For example: Harris County, Texas, a county with a population of about 4 million, saw about 128,000 people vote on its first day of early in-person voting. New York City on the other hand, which has about twice the population, reported 93, 830 ballots.
"There is no place in the United States of America where two-, three-, four-hour waits to vote is acceptable," Congresswoman Alexandria Ocasio-Cortez told press outside her early voting site on Sunday. "And just because it's happening in a blue state, doesn't mean that it's not voter suppression. If we are waiting three hours, four hours, five hours, if this was happening in a swing state, there would be national coverage."
Long wait times can discourage voters, and research has shown that voters from marginalized communities wait about twice as long as those who live in predominantly white neighborhoods.
But in New York City at least, where residents are early voting in a presidential election for the first time ever, it's a sign of interest in the new addition to the voting process.
"Frankly, this also shows the success of early voting as well," Ocasio-Cortez said. "I will wait two hours just like my neighbors are."
Hopefully things go more smoothly in the days to come.