Donald Trump—a golden goose so loved by God he was transformed into a human man, only the Lord got tired midway through and paused for rest, never to resume—is a man of faith. He loves Two Corinthians. He goes toe-to-toe with that mean old Pope. And now, of course, he's questioning Hillary Clinton's Christianity.
At a gathering of social conservative evangelical Christians, held in New York City, of all places, Trump said Tuesday that nobody really knows what religion Hillary Clinton is. He told the room: "we don't know anything about Hillary in terms of religion." From The Hill:
"Now, she's been in the public eye for years and years, and yet there's no — there's nothing out there," Trump said. "There's like nothing out there. It's going to be an extension of Obama but it's going to be worse, because with Obama you had your guard up. With Hillary you don't, and it's going to be worse."
The audio was posted by E.W. Jackson, the head pastor at Exodus Faith Ministries in Virginia and head of something called S.T.A.N.D. (Staying True To America's National Destiny).
G/O Media may get a commission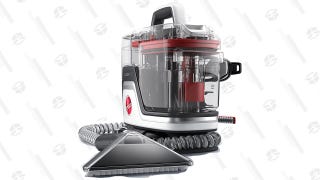 Save $10
Hoover CleanSlate Plus Carpet & Upholstery Cleaner
This is not to split hairs here or anything, but Hillary Clinton is a Methodist. She taught Sunday school, as did her mother. She and Bill Clinton regularly cite a 1981 trip to Israel as both spiritually and politically important to them. She is, for God's sake, known to have attended meetings of The Family, the secretive evangelical group of politicians striving to bring even more Jesus into public life. There are literally books written about her relationship with God and how it influences her politics.
At least one of the evangelical leaders who attended the meeting, Deborah Fikes, was so grossed out by Trump's statements that she went ahead and issued a statement endorsing Clinton. She called Trump's proposals both "un-Christian" and "un-American, at odds with the values our country holds dearest." She also said he sounded "eerily similar" to "some of the worst global offenders" in terms of ethnic intolerance.
On the other hand, Jackson, the pastor who posted the video, was totally convinced, issuing a press release after the meeting and saying on the radio that he would like to see "the evangelical community unify around Donald Trump." He added, "My attitude has been changed by this meeting."
Some conversions are easier than others, I guess.
---
Hillary Rodham Clinton speaks while attending the Foundry United Methodist Church for their Bicentennial Homecoming Celebration, in Washington, Sunday, Sept. 13, 2015. The Clintons regularly worshipped at the Foundry when Bill Clinton was president. Photo via AP