Welcome to your MTV Video Music Awards red carpet roundup, better known as A Swarm of Teens Who I Will Unfortunately Not Be Able to Identify. Will there be nudity? Will there be wide-brimmed hats? Will Ansel Elgort show up with the sole purpose of triggering me? Undoubtedly, yes. Please join me on this very emotional journey.

Alaska Thunderfuck is here in full Brit drag and I am feeling thrilled and relieved. An auspicious start to the evening, I think.
Holland Roden is a hair too orange to pull off this Evil Gwyneth Paltrow look she's trying here, but I respect it. The lovely Michelle Buteau looks cute and kicky in this mini nectarine tuxedo getup, while Sasheer Zamata is in an extremely flattering if not hugely exciting ruffled red two-piece.
G/O Media may get a commission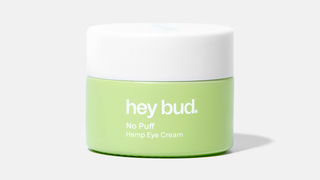 15% off
Hey Bud - No Puff Hemp Eye Cream
IT IS BEY, SHE IS HERE! Rejoice! She's in a sort of...mint...dragon-y...look? And her 100% real life American princess daughter Blue Ivy is killing it in what I have to assume is a Marchesa and some very chic understated braids.
Now, let's play a fun little game called Someone Explain These Young Men To Me:
?????
These non wax figures are apparently named Emery Kelly, Ricky Garcia, and Liam Attridge, who belong to a band that was very optimistically named Forever In Your Mind. Help me understand.
These ones are named Magnus Larsson, Kasper Daugaard, Lukas Graham Forchhammer and Mark Falgren, and they are members of Lukas Graham. Why aren't they named after Magnus, at least? They appear to also be members of some kind of apocalyptic Soylent drinking cult that requires its members to wear clean lines and vintage sunglasses.
The full cast of Rupaul's Drag Race All Stars is here, wearing the ghosts of VMAs red carpet past!!! I am especially feeling Roxxy Andrews' nuanced Kim Kardashian Balmain look.
Queens, from the left: Olympic gymnasts Aly Raisman, Madison Kocian, Laurie Hernandez and Simone Biles. This is cute as hell.
Some gentlemen: Lance Bass makes a searing political statement; singer Jidenna is a beautiful peacock; designer Jeremy Scott and model Stella Maxwell do some peacocking of their own; Ty Dolla $ign is having a strong Lenny moment.
Vamps vampin' it up: Baddie Winkle pairs her sparkly wedges with a matching cane (same!); Ashley Graham shows off a cute new bob to go with her slinky sheer gown; Nicki Minaj looks fucking incredible and she is aware.
Some black and white outfits: I love singer Tove Lo's sneakers and entire vibe, holy hell! Quvenzhané Wallis is an adorable oddball in this ruffled Victorian contraption; model Winnie Harlowe and Amber Rose are looking awesome.
Here's a close-up of Winnie's face chandelier:
A selection of semi-nude sex panther looks from Hailey Baldwin, Chanel West Coast, and Halsey.
Geez, the men are really stepping it up for this carpet: Chance the Rapper is wearing the most perfectly-fitted overalls I've ever seen; Future and Nick Jonas are working similar vibes, although Nick Jonas's weirdly huge muscles are getting in the way of him looking very relaxed, sorry!
Ladies of reality: Farrah Abraham is trying her best, Jersey Shore's J Woww and Snooki are honestly unrecognizable, and Heidi Klum is rocking a reliably short hemline but is possibly a bit more subdued than usual. U OK Heidi?
The boys of Bell Biv DeVoe are having a freakin' blast.
Joan Smalls can obviously wear anything, but I'm not sure about this Sporty Spice look she's trying out? Singer-songwriter Justine Skye is wearing a fringe-y technicolor dreamcoat concept that needs different shoes, while teen of my dreams Hailee Steinfeld does a cinched Balmain.
Britney Spears deserves a close-up here:
Brit!!!! Wow!!!! This is great.
I will never give up hope that someday Ariana Grande will wear her hair not in a tight high pony or half-pony, but even though she has let me down once again, I'm not hating this flirty lace look. Although the pants need to be hemmed.
Kim and Kanye look really great and cool together here, this is actually the first time I've "gotten" the wet-look hair. Rita Ora...I mean, what is there to say? I don't know what you want me to say, Rita! And Naomi Campbell looks very serene in this mint napkin despite being dangerously to flashing us her entire frontal area.
Jaden Smith is here in a smock thing or a dress or a worshipping garment for Sun-Ork the Gentle Space God, I'm not sure. Zara Larsson is also doing the wet-hair look, and I'm not sure how she's breathing in that dress! Cassie is very on-theme, and Alessia Cara is low-key.
Tinashe is in-cre-iii-ble in this Juan Carlos Obando two-piece, oh man:
Dang.
Comedian Nicole Byer gently reminds Getty to not fucking mis-lable her; JoJo looks fresh for fall, Alicia Keys is glowing and seems very, very comfy.
And just when you think you are safe, just when you think the red carpet has finally ended:
Ansel Elgort shows up in this outfit and ruins your entire week.
Bye!!!!