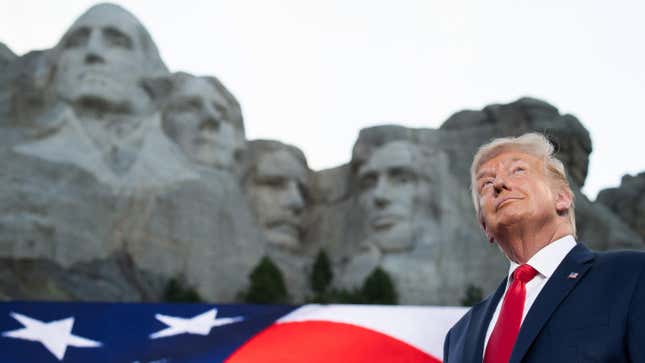 Donald Trump is a narcissist, and so it stands to reason that he would do anything possible to get his giant face hammered into stone in the Black Hills along with a bunch of other possibly better (????) but still definitely racist presidents.
Indeed, according to the New York Times, White House aides reached out to South Dakota Governor Kristi Noem last year to inquire as to how one, i.e. Trump, might go about getting their likeness added to Mount Rushmore. Apparently, this was not a new request of his—Noem said in 2018 interview with the Sioux Falls Argus Reader, that Trump told her in their first meeting that it was his dream to be on Mount Rushmore.
"I started laughing," she said. "He wasn't laughing, so he was totally serious."
Mount Rushmore, for reference, is in the Black Hills, land that belonged to the Lakota Sioux people thanks to an 1868 treaty, but that the United States claimed in 1876. In 1980, the United States Supreme Court ruled that the Black Hills were, in fact, illegally taken from the Sioux Nation, and offered them $100 million in reparations, which the Sioux turned down, arguing they wanted their land. That ruling came about half a century after Calvin Coolidge had a bunch of presidents carved into a mountainside called the Six Grandfathers. It seems all the more fitting that Trump would want his face stamped on stolen land.
This can't happen—not just because Trump's a shitty, racist president whose uselessness has most recently led to the deaths of at least 160,000 Americans, or because Mount Rushmore is its own creepy, stolen, dark mark in American history. It also can't happen because we truly cannot subject future generations to a permanent image of his face.
On the bright side, we might not have future generations, in part because Trump's rolled back climate protections, weakened health care, exacerbated economic inequality, let a deadly virus run amok, etc...