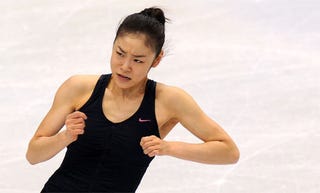 On Thursday, Kim Yu-Na will hopefully become the first South Korean to win the gold medal in figure skating. Kim is only 19, but she's already a superstar in her home country, where support for her approaches something like obsession.
While it's not unusual for a country to support its best competitors, the amount of pressure being placed on Kim has reached new heights. In a segment on the Today Show this morning, Dorothy Hamill said she has "never seen pressure like that... In her country she is a complete rock star. I've never seen photographers like that in a practice, they swarm in, and they're everywhere." Kim is not only a favorite of the paparazzi, but she's also worth quite a lot. The firm that represents her she has signed on for nearly $10 million in sponsorship and endorsement deals. She is featured in commercials and ads for everything from bread to air conditioners. She's been in fashion spreads in the Korean edition of Vogue, Elle, Men's Health and Allure. In South Korea, her face is everywhere.
Her status as a national hero is further cemented by an old rivalry. The New York Times explains that Kim's expected gold will not only be viewed as a win for her country, but a significant loss for Japan. Her main competitors are Mao Asada and Miki Ando, a fact that makes tonight's competition all the more significant for South Korea:
More than a half-century later, South Korea's nationalistic fervor and sense of victimhood still inform sporting rivalries between the two nations. The Olympic buildup has been fueled by great anticipation of Kim's beautiful, speedy, flowing style, and also by Internet vitriol and fears that she will be unfairly marked down for the quality of her triple lutz-triple toe combination jump.

"Koreans' blood roils when their country competes with Japan in sports or elsewhere," said Song Doo-heon, a professor of computer science at Yong-in Songdam University in South Korea, who blogs about figure skating and is a popular commentator on Kim.
The Wall Street Journal describes this aspect of Kim's celebrity as a "combination of ardent patriotism and insecurity about the country's reputation." Song explains that the Olympic rivalry between South Korea and Japan is so deeply entrenched that it will determine which "country's culture is better regarded by the rest of the world." And as though that wasn't enough for a 19-year-old to shoulder, her coach Brian Orser, a one-time Olympic gold hopeful himself, has said that he will consider her win a compensation for his failure in 1988.
The pressure will be on tonight, when women's figure skating begins with the women's short. Kim will have 2 minutes and 50 seconds to deliver a routine that has eight required elements, including jumps, spins and spirals to a musical medley from James Bond films. Hopefully Kim will be able to ignore the incredible pressure and focus on her skating. And that is exactly what she plans to do: "Competing or winning competitions, it's not for my country, it's for me," Kim said. "I'm doing it for myself, not to win awards for Koreans. I am not skating just to win gold. I am skating for skating."
Kim Yu-na Carries South Korea's Expectations On Her Blades [NYT]
A Nation Awaits Gold In Figure Skating [NYT]
Kim Yuna Has South Korea's Full Attention [LA Times]
On Tuesday In Vancouver, It's Kim Yu-na's Night [WSJ]
Women's Figure Skating To Begin Tonight [NBC]
A Look At The Women's Figure Skating Contenders [NYT]
Figure Skating Coach Brian Orser Never Forgot Losing Gold Medal [NYT]