Last night, Victoria's Secret taped its annual fashion show. There were 69 looks, including many with Swarovski crystals, Nicki Minaj and Maroon 5 performed, and celebrities a-plenty sat front-row. Backstage before the show, Candice Swanepoel said reporters always ask Victoria's Secret models about their diets. "It's always the first question: 'So! What have you been cutting out?' I understand the speculation because [the show] is about our bodies and we take such good care of ourselves so people want to know how." But to her, it feels like the questioners have an agenda. "They want to think that you're unhealthy." [The Cut]
Speaking of which, a headline presented without comment: "From Gaining Weight to Liquid Diets, Which Victoria's Secret Angel's Pre-Show Diet and Work Out is the Craziest?" Warning: the more time you've spent reading ladymags, the less "crazy" any of these "diets" will seem. [Fashionista]
The Telegraph's take on the show:
Unlike most fashion week runway shows, where dour faced models tend to walk passionlessly up and down so as not to distract from the clothes, here the models are encouraged to wink, wave, blow kisses and whoop up the crowd. At the end of the runway, there is more winking, wiggling — and at one point Joan Smalls pulled the rip-cord on her costume and a silver parachute inflated around her shoulders. Alessandra Ambrosio wore gold-plated wings that weighed 22lbs and were decorated with 105,000 Swarovski crystals.
[Telegraph]
What underwear do VS models like to wear in their own time? Men's superhero underwear, if you're Anne Vyalitsyna, who commandeered her boyfriend Adam Levine's underthings. "He had an amazing collection of superhero underwear that I really love, but he doesn't like to wear it anymore...Actually, I took over the whole collection. Now I wear it to go to bed." [The Cut]
Vyalitsyna says the VS show is her favorite modeling gig. "This is the only show that's all about the girls, all about fun, and you're looking as beautiful as you possibly can. That's what makes it so special. Most of the other shows, it's about a certain look, it's about a certain mood. And here, you pretty much go and have the best time ever. But then you prepare for weeks before, that comes with a lot of hard work." Karlie Kloss agrees: "I think the only difference [from other shows] is that I get to be me. I get to smile, I get to blow kisses...I get to do anything I want on that darn runway. Usually, they're like, 'Straight forward, no swinging, no hips, stop, look straight in the camera, turn left, come back.' It's very military-like to do a Prada show, or another show." [Fashionologie]
Gloria Steinem's opinion of the VS show, in case you were wondering: "Well, it's employing those women! But women's bodies are not just ornaments, they're instruments. Walk around the street and look at real people. That's much more helpful than those ads." Yes, we have reached a point in the discourse where any feminist criticism, however tepid, of the Victoria's Secret show and the kind of beauty ideal it mainlines right into America's jugular will be poorly received. "She's just jellus," etc. [The Cut]
---
The Marc Jacobs perfume ad featuring Dakota Fanning and a suggestively placed bottle has been banned in the U.K. The image is too "sexually provocative." Fanning was 17 when the ad was shot. [E!]
---
G/O Media may get a commission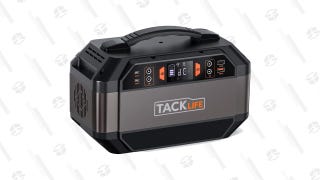 Tacklife Portable Solar Generator
The Olsen twins sport some serious laceface on the cover of Vogue's annual best-dressed supplement, which is themed around sisters. Inside are Fannings, Middletons, Knowleses, Doillon/Gainsbourgs, Delevignes, Aldridges, Clarinses, and Maras. [Fashionista]
---
Women's Wear Daily's man of the week: Herman Cain. The sexual-harassiest presidential candidate gets a C for his suits, which lack a "strong shoulder," and a yellow tie that makes him "look cocky." [WWD]
---
Jennifer Garner, who is five months pregnant, says her stylist won't let her wear maternity clothing. "Rachel Zoe is so determined to not put me in maternity clothes. I think because she was so little when she was pregnant, she didn't wear them." [InStyle]

Thandie Newton thinks the whiteness of Vogue and other major magazines is "preposterous": "Don't get me started on black people being on the cover of big magazines. It's so preposterous ... Literally, people have said to me, 'What have you got against Vogue that you don't want to be on their cover?' And I just laugh. [Vogue] don't feel the need to represent because it doesn't make any sense to them." [The Cut]

Lily Cole joined the students protesting against tuition hikes in the U.K. [Vogue UK]

Arielle Dombasle sang "Pie Jesu" at Loulou de La Falaise's funeral in Paris. Pierre Bergé read a description of La Falaise by the late Yves Saint Laurent. [WWD]

Luxury conglomerate PPR invested $10 million in a New York start-up called The Fancy. The Fancy "encourage[s] users to clip and share their favorite images from the web." So, this differs from Pinterest how? [NYObs]

Nicole Richie is going to do a clothing line for QVC. [Us]

Paris department store Printemps unveiled Chanel-themed holiday windows, which boast tiny little mannequins decked out in Karl Lagerfeld skinny suits and Karl Lagerfeld powdered ponytails. Karl Lagerfeld, for his part, has already done his Christmas shopping. "I start to buy Christmas gifts already sometimes in June and July," says the designer. [WWD]

Something about this Refinery29 write-up of a designer lookbook (headline: "This Brothel-Inspired Collection Has Cute Dresses for Dirty Girls") rubs us the wrong way: "Their all-American inspiration wasn't the innocent farm girl of decades past, but the ladies of the brothels and bordellos not-so-innocent farm boys used to visit. That's why the checked dress on Natalie Love goes that extra inch up the thigh and stylist stylist Djuna Bel's sunny plaid number hugs her just so. Hey, just because a lady is just a lil' bit dirty, doesn't mean she can't be adorable too." Sex workers: trend for spring! [Refinery29]

Kohl's had a good quarter: its profits rose to $211 million, compared to $176 million in the same period a year ago. Customers don't seem to have minded that Jennifer Lopez and Marc Anthony announced their divorce just before their respective clothing and homewares lines hit Kohl's stores; the company says the new brands "met our aggressive sales plans." [WWD]

Jason Wu is now designing really expensive faucets. [WWD]

And now, a moment with Christopher Kane. Christopher, you're British; what do you think of Kate Middleton's style?

"It's a shame she doesn't wear more designers. I don't really like the High Street getting so much of the credit. I understand that there would be an array because you need to relate to so many people in the market, but she is a princess. If I were a princess, I'd be like, 'Oh yeah, bring it on.'"