This week on Glee we learned important lessons about body acceptance, and the perils of meddling with your dad's lovelife to satisfy your homosexual longings.
On first viewing this episode seemed a little weak, especially coming off of last week's Madonna episode, but it was probably a wise choice to slow things down for a little character/plot development.
After all the drama last week about Kurt and Mercedes never getting solos, its good to see the writers follow through by focusing this episode on them. (Did Lea Michele even have a line this week?)
In this episode Kurt fixed up his widowed dad Burt with Finn's widowed mom Carole in an attempt to get closer to Finn. The plan backfires when Burt and Finn bond over "guy stuff." Kurt feels left out and Finn is upset that Carole is moving on from his dad, so they conspire to break them up.
The writers handled Kurt's homosexuality well, treating his feelings for Finn like any other crush, rather than just playing it for laughs. In many high school dramas the parents are totally boring, but the actors who play Kurt and Finn's parents (Mike O'Malley and Romy Rosemont) did a great job of making you care about their characters even though we only see them every few episodes.
G/O Media may get a commission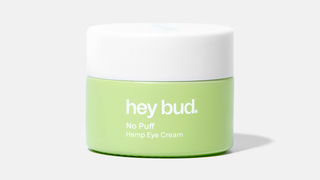 15% off
Hey Bud - No Puff Hemp Eye Cream
The emotions in Mercedes' storyline didn't ring as true. Sue demands that she lose 10 lbs. in a week because Splits magazine is writing a feature about the Cheerios and Mercedes starts starving herself. If this had played out slower it might have made more sense, but considering that Mercedes had enough body confidence to tell Sue, "I'm worried about showing too much skin and causing a sex riot," when asked why she wasn't wearing a cheerleading skirt, it seemed a little out of character.
Meanwhile, Sue has reserved the school auditorium all week for cheerleading practice, and while searching for another rehearsal venue, Will finds April Rhodes (Kristin Chenoweth) working at a local roller rink. She's achieved her dream of becoming a strip-mall tycoon's mistress, but like Will, she's lonely. When she finds out will is sub-letting his apartment she invites herself for a sleepover, leading to their beautifully-staged duet of "A Chair is Still a Chair"/"One Less Bell To Answer."
While the performances in this episode were good, it may have benefited from another highly-choreographed number. All of the songs in this episode were slow, aside from Bruce Springsteen's "Fire," and songs from Burt Bacharach, Barbra Streisand, and The Wiz probably didn't go over big with kids downloading the songs on iTunes.
Then the show shifts into full after-school special mode. Talking about the pressure on teen girls to be thin is all well and good, and this was a nice moment for Quinn to show how pregnancy and unpopularity have changed her. However, the plotline would have seemed a little more authentic if it was streched out over a few episodes. Instead, Mercedes goes from loving her body to having an eating disorder to recovering in about 40 minutes. The clumsy writing and melodramatic piano music detract from what could have been an interesting storyline, and it seems Amber Riley knew the line "I'm so embarrassed," was cheesy and didn't know how to deliver it.
Similarly, the dramatic close to this story — Mercedes singing Christina Aguilera's "Beautiful" — felt too clichéd. It's similar to a scene from Mean Girls, only Tina Fey did it better. Maybe that has something to do with Mean Girls being a movie, which means we don't really know if the Plastics change for good. Since Glee is a series, we see the McKinley High students realizing that they're all beautiful this week, but in the promo for the next episode the New Directions kids are being ranked based on a "hotness quotient," and Mercedes notes, "They didn't even bother putting us on the list."