Blue Ivy Knowles Carter attended the CFDA Awards in New York Tuesday night, where her mother was honored with the Fashion Icon 2016 Award.
Lovely Blue made her entrance in a cute bow, and already in her short life seems quite exasperated by the paparazzi; as photographers screamed out her father's name, she gave them a "for shame" finger wagging that was essentially a psychic spanking for not minding their own business, something that should weigh on at least one or two paps's moral conscience and/or haunt their dreams. A word of advice: never trust a person who coos "AWWWW" when a wee girl is asserting her personal space!
It was a fitting entree into Beyoncé's acceptance speech, which was gracious at the same time as it was pointed; Bey called out the fashion industry for its racism, both historic and current. First, via EW, she discussed her grandmother:
Most of you guys don't know this but my grandmother was a seamstress. My grandparents did not have enough money and could not afford my mother's Catholic school tuition, so my grandmother sewed clothes for the priests and the nuns, and made uniforms for the students in exchange for my mother's education. She then passed this gift down to my mother and taught her how to sew.
G/O Media may get a commission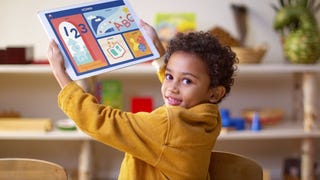 30-Day Free Trial
Homer Learn & Grow Program
Here it is worth noting that any Beyoncé fan worth their salt knows that Beyoncé's grandmother, Agnez Dereon, was a seamstress. Moving on:
When we were starting out in Destiny's Child, high-end labels, they didn't really want to dress four black, country, curvy girls. And we couldn't afford designer dresses and couture. My mother was rejected from every showroom in New York. But like my grandmother, she used her talent and creativity to give her children their dreams. My mother and my Uncle Johnny, God bless his soul, designed all of our first costumes and made each piece by hand, individually sewing hundreds of crystals and pearls, putting so much passion and love into ever small detail. When I wore these clothes on stage I felt like Khaleesi. I had an extra suit of armor. It was so much deeper than any brand name.
Beyoncé is utterly poised throughout her speech, viewable here via Periscope, but let it not be lost on any of us that this was a very pointed call-out, both in honor of her mother and uncle and to remind the fashion world that they're epically fair-weather friends. Bless and good night!