Here is a very elegant picture of Gisele Bundchen simultaneously breast-feeding and getting her hair, makeup and nails done. If you are so inclined, you can print it out and tape it to your vision board over a collage that says "HAVING IT ALL."
"What would I do without this beauty squad after the 15 hours flying and only 3 hours of sleep #multitasking#gettingready," reads the Instagram caption. Many of Gisele's fans have praised her for normalizing and "showing the beauty of" breastfeeding, as one comment puts it.
And then, because of course, someone from TheMoms.com went on on Good Morning America to state that breastfeeding is "a very personal choice" and that the photo is "obnoxious" and "a little outrageous." Oh, the Internet. What a place. [USA Today, photo via Instagram]
---
G/O Media may get a commission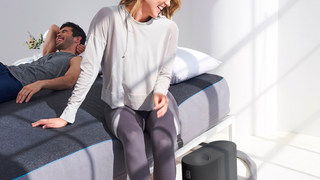 Eight Sleep Pod Cover
Kate Winslet and her husband Ned Rocknroll (that is his real name; I just learned about this and I'm taking it well) have just given birth to a baby boy. According to a rep, both mother and baby are doing great. This is Winslet's third child — he will join Mia, 13, and Joe, 9, as a member of her lovely family. Congratulations to everyone! [Us Weekly]
---
Kim Kardashian took to her blog to defend the fact that she only gave 10 percent of her eBay auction sales to the survivors of Typhoon Haiyan in the Philippines:
[F]or people to attack me for giving 10% of my eBay auction sales to the people of the Philippines, that hurts. I do eBay auctions monthly and change the charity or church from time to time. I give 10% of all my earnings to charities, not just these eBay auctions. This month it's for the people of the Philippines, last month was Life Change Community Church... Truth is how the # is broken down, is neither here nor there. The people of the Philippines need all of our help, no matter how big or small.
I mean, I guess that's true, but there's something really dishonest in saying you're having an auction for the Philippines when it is only 10 percent for the Philippines, right? Okay, I am done with thinking about Kim Kardashian's money for the day. [Celebuzz]
---
"You Have to See This: Victoria's Secret Models Twerking." Do I? Do I have to? [PopSugar]