Sincerest feelings-havers Lena Dunham and Taylor Swift have been Internet friends since Red dropped in October, but Dunham just admitted that the denizens of Bushwick who constitute her fanbase have a hard time believing that she scream-sings "You Belong With Me" in the shower like many a red-blooded human being. (Okaaaay, like me. But I DO NOT STAND ALONE HERE.)
Ana Gasteyer Satirizes the Girl Boss in 'American Auto'
Says Dunham: "We have D.M.'ed. I'm a really big fan. She started following me, and here's how you find out Taylor Swift is following you: you start hearing from all the insane Taylor Swift fans that are like, 'If Taylor Swift loves you I love you.' So I sent her a message. I was like, 'I just want to let you know that your albums have gotten me through a lot of very hard times.' When I tweeted that her new album was amazing, every one of my Twitter followers was like, 'I so hope that you're joking.' But I have no interest in liking anything ironically. If I wanted to be ironic, I'd grow a mustache."
R.I.P., irony. [Young Hollywood]
Is Harry Styles treating Taylor Swift's heart like chimpanzee nuggets? Bonobo fillets? Whatever that Girls quote is? [Gossip Cop]
G/O Media may get a commission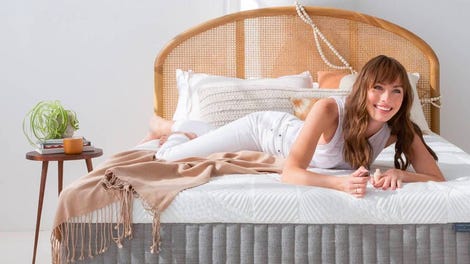 Sleep Sale
Sleep Sale - Brentwood Home
Speaking of which, THIS. [World of Wonder]
---
Although Lindsay Lohan originally promised a calm night in on New Year's Eve, she couldn't refuse raking in $100,000 to party with Brunei's Haji Abdul Azim in London. "Prince Azim" is known for his lavish parties, according to a source: "He rents the ballroom and does this for his amusement." OH OKAY GLAD THAT'S CLEARED UP. Meanwhile, Michael Lohan, the perpetual commentator, thinks it's not a good idea: "Now she's getting paid for dates?" Nice. Intimate she's a hooker. Way to be. [NYDN]
---
Are you one of those people who thinks our Dirt Bag feature is a nihilistic, depressing exercise in celebrity inanity? Let me prove you right!! I woke up with the following actual sound bites from Kim Kardashian's best friend Jonathan Cheban in my email, weighing in on her relationship with Kanye West:
"I really love him. I actually can't imagine anybody else for her, especially like no more basketball players. I'm done with that stuff."

"He's so smart and so great to talk too [sic] and I love when he's around. I love when I make him excited about stuff cause then I know the right stuff."
Let's play a game called How Much Money Does Jonathan Cheban Get For Promoting Gummi-Bear Flavored Vodka While You Just Overdrew Buying Cat Food? [Hollyscoop]
---
Sadly, Britney Spears has been exhibiting some circa-2007 behavior on the set of The X-Factor and the commercial shoot for her new perfume Fantasy Twist. She's been "wandering around aimlessly" on the set of the singing competition show "as if she has a different contract than everyone else," and will bet let go before the next season's taped.
As for the perfume shoot:
"First, she wanted the producers to fly Vanilla Ice in to duet with her, which was just weird. They called him and he wanted $500,000, so that wasn't going to work," says the source. "Then, she demanded that exotic animals be flown in to be in the video and they had to tell her that that wasn't going to work for legal reasons and insurance reasons. She wanted to do her own makeup and when she would get it done, she would just mess it up on top of what they did."
:-| [NYDN]
---
Christina Hendricks and her husband, "struggling actor" Geoffrey Arend, might be having problems, although a source close to them counters, "OMG no, they are sooooo happy!!!!11" [Gossip Cop]
---