I met my two teenage best friends at the start of high school, but our affections didn't crystallize and become epochal until two years later, on the very first day of eleventh grade. All three of us had grown up in an ethnically diverse Toronto suburb and chosen to attend a performing arts high school in the countryside just north of our hometown instead of following suit to our local schools. At the time it was overwhelmingly white, and we were 15 going on Adult. On that first day of class, a brewing identity crisis struck; whatever it was all three of us—Jamaican, Indo-Guyanese and Indian, respectively—were going through, it was clear we needed to be around people who felt familiar. By January we'd all transferred back to our local high schools, separated but life-bonded over four months of comforting each other and collectively expressing our brown-ness.
Meeting the people with whom you first halt life's flow is pivotal and life-defining, whether you stay tight or not. Looking back on my girlhood, there are asides for body image issues, boys, alcohol, parties, parents, cultural tension and part-time jobs, but the roots of that friendship is still the most meaningful. At a time when we were defined by our youth and gender—and, like many third culture kids, felt both alienated and alive in our skin color—my friends and I pushed back against what something that made us feel uncomfortable. I found my voice that year, and those girls are my context.
The most talked about scene in Girlhood (Bande de filles), the new film by French director Céline Sciamma, is probably the best four minutes of cinema I saw in 2014. Illuminated by blue light, four best friends turn their heads skyward, and sing along in rapture to Rihanna's "Diamonds." It's a temporal, iconoclastic and indulgent bit of filmmaking, almost Sofia Coppola-esque if she ever cast black people in her movies. In the film, which centers on the chrysalis of Marieme living in an unnamed Parisian banlieue, we learn that the girls are in a hotel room rented with money that's at least partially stolen. Before dancing, they did what those of us who come from small, watchful homes do with the anonymous freedom of a hotel room: they ate pizza and candy, drank soda, smoked shisha, soaked in the hotel tub and got dressed up in stretchy dresses (with the security tags still on).
Sciamma's made a tender, energetic film about one experience of Parisian black girlhood that intentionally sidesteps poverty porn. (At the TIFF screening in September, an audience member asked the star, first-time actress Karidja Touré, if she was proud to represent the banlieue. Touré balked, politely: "I feel proud of this film, but I am not from there.") Cool tones and wide-angle shots of towering, crumbling housing estates recall Andrea Arnold's melancholy Fish Tank. And there's a thrilling, minimal electro score by the producer Para One. Aesthetically, Girlhood is a pleasure, particularly for those of us who want more and more and more stylized depictions of black and brown life. (A note on context: for some black French viewers, the film hews too closely to the "deterministic ideology" of the growing subgenre of French banlieue films.) So of course the "Diamonds" scene is appealing because its hinged on a massive pop song, kind of like that bizarre bit in Spring Breakers set to Britney Spears' "Everytime."
Rihanna is, as we all know, zeitgeist. But it's also beautifully acted—and then there's the Hype Williams-cobalt lighting, which is unconventional, and flattering to the deep skin tones of the cast. It gave me goosebumps and triggered a rare instance of cinema-induced nostalgia. From the bland freedom of that hotel room down to the cheap polyester of those "going out dresses," it brought me back to my very specific girlhood and my girls—though we would've probably been yelling along to Foxy Brown, or Mariah.
G/O Media may get a commission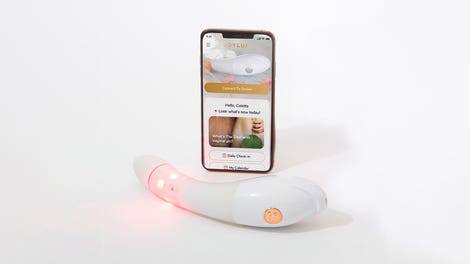 $50 Off
Joylux vFit Gold Device
But really, this scene unearths the innocence buried in girls who are situationally forced into growing up real fast. Girlhood is a film about young women who raise each other, and bear the brunt of their gender in the household and streets while parents are shadows, either constantly working or emotionally untethered. Marieme, Lady, Fily and Adiatou spend their days tough-talking and getting into fights, caring for their younger siblings, laughing boisterously except when passing boys on the block. Which also makes this a film about not staying hidden, and staying afloat the suffocating waters of patriarchy and respectability politics.
At first shy Marieme wears her hair coiled in a braided chignon with her brow permanently furrowed, but she comes alive through her new friends; a long weave, new Jordans, eyes up and lots of "le swag." "You have to do what you want," Lady, the foursome's assertive ringleader, tells her. Later, Lady learns the consequences of being a girl who is too visible, but her words aren't lost on Marieme. Friendship gives her wings. After losing her virginity and being labeled a slut by the locals and her brother, Marieme's sweet, dumb boyfriend suggests they get married to fix everything. "And be your little wife?" she responds, not unkindly, but countering his presumption with fire. "I want more."
If you're lucky, you're able to navigate these years and the heinous and sometimes-wonderful multitudes they bring with the help of friends. That is how it was with my sisterless-friends and me. Over long phone calls we demystified and debated sex; on three-way after a party or all-ages club night we'd laugh off the insane ways boys and men tried to hit on us (horrifying, in retrospect). I can't speak for all of us, but I felt protected in ways that my parents—more present than those in Girlhood, though not exactly approachable—couldn't provide. Boyhood is typically valorized, while girlhood feels like a terrifying rite of passage. Girlhood ends with a breach; boyhood with choice. Given the ways the world conspires to break girls down, I think we're pack animals out of necessity. And the friends, the coven or clan or squad that you choose are your cover under fire.
Anupa Mistry lives in Toronto and writes about culture and communities. Holler: @_anupa.
Girlhood opens in limited US release Friday, January 30.
Image via Hold up Films & Lilies Films.