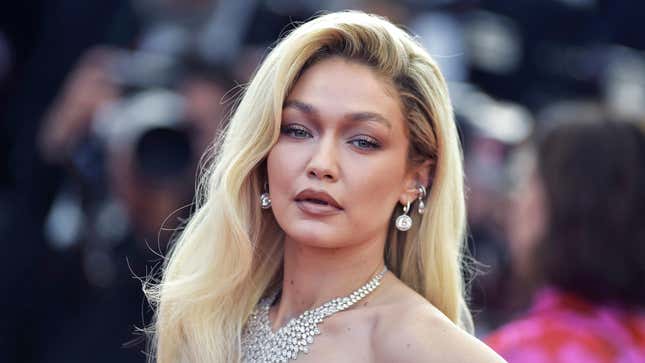 Gigi Hadid was arrested in the Cayman Islands last week for "possession of ganja," according to a local news outlet—and her PR team almost managed to keep it under wraps for good. Almost.
On Monday, Cayman Marl Road reported that Hadid—and her friend Leah Nicole McCarthy—had been "charged with the possession of ganja after the drug was found in her luggage while being processed by customs officers at the Owen Roberts International Airport." In an unusual twist for celebrity news, the reporting on this kerfuffle took place not on Monday, or even over the weekend, but last Monday, July 10—yet received no media attention for over a week.

Gigi and her friend arrived on a private aircraft that day, flying from the US. As part of regular customs protocol, officials began to search the women's luggage, when "ganja and utensils used for the consumption of ganja were found in the luggage of both passengers." Though the amount of weed was apparently "relatively small and…seemingly for personal consumption," both Gigi and McCarthy were arrested on suspicion of "Importation of Ganja and Importation of Utensils used for the consumption of ganja."
Both women were reportedly transported to a Prisoner Detention Center before being released on bail, pending a decision from the Office of the Director of Public Prosecutions. On July 12, according to the Cayman Marl Road, Hadid and McCarthy appeared in summary court where they were charged. The women pleaded guilty and were each fined $1,000, though their records will remain clear.

"Gigi was traveling with marijuana purchased legally in NYC with a medical license," a rep for Hadid told E! News on Tuesday. "It has also been legal for medical use in Grand Cayman since 2017."
Stepping back, this whole situation is so silly. Hadid clearly just wanted to lay in the sand, and get nice and stoned. I won't pretend to be well-versed in international marijuana laws, but based on how this ended up playing out, it appears that Cayman Islands officials do not really give a shit about marijuana use—so why cause this kerfuffle in the first place?
Second, and most importantly, I am obsessed with the fact that we almost had no idea this whole debacle happened. Whether that's by sheer dumb luck or by the design of a highly skilled PR team is anyone's guess—though honestly, this PR failure has only further endeared her to me. Hadid's PR team's loss is my gain, it would seem.
The incident clearly did not phase Hadid, who posted some fairly typical model-off-duty-bikini photos (see above) over the weekend—with a dragon tattoo (real or fake, who can say??) but, sadly, sans her weed "utensils."