Best friend likes to smuggle dimebags on cross-country flights? Brother prone to petty theft? Boyfriend chronic double-parker? Is your mom totally running an illicit numbers game in the basement of your childhood home? SAME! We've compiled a gift for the victimless criminal in your life, in hopes of making them more sophisticated ne'er-do-wells—or at least that they may think fondly of your thoughtful and considerate nature for the 1.2 months they end up in the slammer for criminal trespassing onto the rooftop pool at Soho Grand (hypothetical crime, do not do this at home!).
---
Okay, but say your loved one does "lock her keys in her car" all the time, and "calling the locksmith" is getting to be a pricey and time-consuming endeavor. Wouldn't it be kind to gift her with this special CIA Credit Card Lock Pick Set, complete with five separate handy lock-picking devices, kept neat and tidy in an attractive, compact sliding credit card case? Easily slipped inside her wallet next to debit and business cards, keeping the tools handy and discreet, although know your rights: just possessing one of these in some states is illegal, even if you're just carrying it because another credit card in the billfold makes you look richer on blind dates.
• CIA Credit Card Lock Pick Set, $16.99 from BrassKnucklesCompany.com. ("We recommend that you buy one of our books about lock picking if you are not already skilled in the area.")
G/O Media may get a commission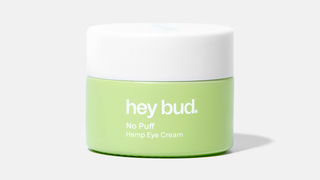 15% off
Hey Bud - No Puff Hemp Eye Cream
---
It is actually unclear where one would need to smuggle the tiny amounts of liquor made possible by Urban Outfitters' Booze Tubes—liquor-friendly test tubes wrapped in tampon packaging that helps sneak a few shots past security—but if your law-breaking family member is a light drinker, these $14 money-saving beauts will go great slipped inside her pocketbook en route to the club. A clever flip on the dopeon, as well, although Urban Outfitters has not specified whether these booze tampons are safe for vaginal insertion.
• Booze Tubes, $14 for five from UrbanOutfitters.com ("Because, honestly? Nobody's gonna question tampons.")
---
Maybe you've just learned about the necessity of using an air-gapped computer whilst sharing confidential state secrets (thanks, The Newsroom), but your righteous whistleblower cousin has known about this since becoming a "source" (hello, Clea Duvall). Show your savvy and fealty to the American public's right to information by gifting her a bundle of CD-Rs for safe file transformation: so that air-gapped joint never has to connect to the internet, potentially exposing her identity to the government.
• Staples CD-R Spindle, $19.99 for 100 from Staples.com ("Record and save your important files.")
---
Your mom's high-stakes poker ring is going swimmingly, but the stakes will be much, much higher once you gift her with a deluxe customizable Lumen HD Casino Table, with LED lights that can be set to white, one color, or changing colors, giving the dank room at the end of a tunnel under a bodega out of which she operates a more festive vibe. Customize for Texas Hold 'Em, or even up the ante with special tables for Blackjack and even Roulette!
• Lumen HD Casino Table, $1799 w/free shipping from BBOPokerTables.com ("Scientists from leading institutions have concluded that LEDs increase feelings of exhilaration at the poker table precisely 327% (statistic not vetted). Totally worth it.")
---
When [REDACTED] is super heavy up in the deep web black market game, [REDACTED] will need stacks full of bitcoin. That shit is expensive, but its current value is at a record low, so now's a good time to go full mob style, cop [REDACTED] a single bitcoin as tribute, and hope [REDACTED] will incorporate you into [REDACTED]'s profits when [REDACTED]'s personal corner of deep web black market snakes in like $2 billion off of [REDACTED].
• One bitcoin, $378 and up (at press time) at Coinbase.com ("The bitcoin network is made up of thousands of computers run by individuals all over the world!")
---
For the friend who loves shoplifting, double-trouble your gift this year with a special 35-pocket SCOTTeVEST Alpha Jacket, which will not only provide plenty of nooks and crannies for concealing the fruits of his efforts, but will also keep him warm! Make sure you buy it one size too big—more room for wares—in this non-conspicuous neutral shade of dark grey. The key is to blend in, after all. Nothing going on here, no sir.
SCOTTeVEST Alpha Jacket, $199 from ThinkGeek.com ("Super spy jacket conceals whatever you're carrying")
---
Hypothetical scenario: your brother-in-law needs to skip-to-his-lou straight off the motherloving grid, and FAST. Obviously connecting to the internet is not the smartest move when you need to evade The Man (as previously ascertained via air-gap computer), but it isn't totally realistic, either. That's why a perfect gift is the Samsung Galaxy S II Plus, a phone that doesn't need a SIM card to work but can access the internet via public Wi-Fi, for any internet emergencies brother-in-law might incur whilst skulking around the planet in criminal anonymity.
• Samsung Galaxy SII Plus, $349 via Amazon.com ("Innovations like this, based on real human needs, truly enhance your smartphone experience.")
---
Okay, your sister is a huge weed-smoker, and that makes her the most chill sibling, you know what I mean? But she lives in one of those draconian states in which weed is still a criminal offense, and her landlord is a total boner, so your gift to her is a foolproof way to cover up the herb smell in her apartment. Enter: New Edition Health Pro Plus air purifier. It's hospital-grade so that herb scent won't even have a chance at leaking out the door—watch how it clears the smoke and chemicals from this chamber that was attacked by a grenade, for DEMONSTRATION PURPOSES—plus it will also clear out dust and other air pollutants, keeping your sis stoney and healthy!
• New Edition Health Pro Plus Air Purifier, $899 from IQAir.com ("Tested and certified by an independent third-party lab to effectively filter harmful ultrafine pollution particles down to 0.003 microns in size.")
---
Your best homegirl, the graffiti artist whose tag is CLITWARS1 and who kicks it with the #FREECECE cru, is all set with the Krylon paint. But what says "I love you and your art and how you're beautifying the shitty new condo on the block" better than a brand-new Red Blue Fire Balaclava Flame Full Face Ski Mask to conceal her identity when she's getting up? (In fire pattern, cause her shit is flames!) Throw in a new MTN Can Silencer Button Magnet in order to show how much you understand her craft.
• Red Blue Fire Balaclava Flame Full Face Ski Mask, $14.95 from Shopena.com ("Red and blue flames clash right in the middle of your face with this fire inspired ski mask.")
• MTN Can Silencer Button Magnet, $5.99 from 33third.com ("Nice to use on cans when you want to catch some tags or throwie outlines on quiet late night but theres still tweaker neighbors up that will snitch on you streets.")
---
These suggestions are the tip of the iceberg for the myriad practitioners of victimless crimes in your lives. So, what are you going to cop your delinquent friend/relative for the holidays? We could use a few more ideas for [REDACTED].