It's time for the holidays and you have almost everybody on your list checked off except for that one picky friend with seemingly exquisite taste that changes as fast as the seasons do. You can't walk by a store-front window without her making some kind of comment about how "last season" that is or how the look of the something is "on trend." (On what?) The kind of person you're just a little afraid to buy a gift for because even if she tells you that she loves it, you know she's secretly judging whatever you got her and will swiftly be placing it in the back of her closet never to be seen again.
In case you haven't already guessed, I have that friend. Her name is Lauren. For this guide, I chose some products on my own, ran them by her (to make sure nothing was too garish), and then asked her for a few things she might even ask Santa for herself. Onward!
A Fancy Bowl For Putting Things In
Designer Mario Trimarchi explains his design for such a fancy bowl meant to hold fruit as such: "It is a room without windows in which you can do nothing but ponder the wind that is undoing all sublunary things outside." Neat! My girl Lauren broke this down for me in layman terms: "It's meant to reflect cards in the wind." Who wouldn't want to casually mention that to their house guests upon (obviously) receiving a compliment on it?
G/O Media may get a commission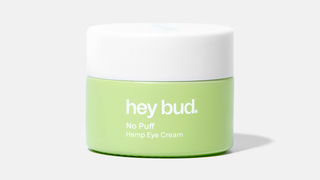 15% off
Hey Bud - No Puff Hemp Eye Cream
"La Stanza dello Scirocco" fruit holder, $70 at Alessi.
A Non-Traditional Tree
Pine trees smell nice and all, but if your friend is into modern design chances are she'll prefer a non-traditional tree to the real thing. As "wild" as you think you might be going with your tree trimmings — Black pine cones! Hot pink decorative balls! — it's pretty difficult to make your tree look a whole lot different than your neighbor's. Opt for any kind of tree that's not the kind you'd find in the house your parents live in, like this one, which comes in a full size or miniature tree.
Superstar Holiday Tree, $159 at Modernica.
A Clock of All Trades
This simple-yet-vibrant clock will bring the perfect "pop" of color to any wall that's black, white, or grey. I personally like it because it reminds me of the giant color wheel that hung in the art room back in my school days.
Chroma-logical Order Clock, $61.99 at ModCloth.
The Most Unique Dish Rack
I don't want to come out and say that I need this for my kitchen because I, a rational, even-minded human being, can wrap my head around the difference between "want" and "need." But have you seen this thing? If you have a dishwasher in your home there's really no need for this do-dad, but for me, a gal who lives in what's essentially a shoebox, I think I need it. Hell, the designers even made a video show all the ways it expands and how you can stick your dishes in the thing. Yep! A well-designed product that I think I definitely need.
High&Dry dish rack, $49 at black+blum.
A Designer Tent
Is your friend both a design fiend and the outdoorsy type? If you've got 1,000 bones to spare, I recommend these designer tents. They come in all sorts of styles (the firefly is my favorite) like a book, sandwich, quilt, and a couple being intimate (what?!). They even have leopard and floral patterns. So if and when their local Yogi Bear comes by and attacks, at least they'll be mauled in style!
10,000,000 Fireflies Tent, $937.02 at FieldCandy.
A Spoon For Your Tea Bag
Is your friend a tea drinker? In that case, I suggest this teaspoon. Designed by a 26-year-old from Austrailia, the spoon is both good-looking and super functional. I know that I feel partially ashamed when after steeping my tea I use my grubby little fingers to squeeze all the good stuff out of the bag. Be a lady and use this thing instead.
Spoon for tea bag, $25 at Alessi.
I Can Haz Unique Wrapping Paper
Have a bunch of presents in succession to wrap and give to one person? Perfect. Make your unwrapped gift the talk of your holiday gathering with wrapping paper that stands out. My personal favorite is the cheeseburger because even though I don't eat meat, this idea is utterly hilarious to me.
Cheeseburger Wrapping Paper, $20 at Kickstarter.
A Different Kind Of Coffee Mug
The design snob is, simply put, too good for your average cup of joe. Enter the Quake mug: ceramic mugs that were gently shaken when the clay was still wet to give each a unique design and hold. Of course, me being the jackass that I am, I would probably walk around all the time with a strained look on my face and would pretend that I had Incredible Hulk-like strength. But anyone that is truly an adult would probably just enjoy them in a regular fashion.
Quake Mugs, $42 for two at Stockholm Design House.
A Girl Can Never Have Too Many USB Outlets
As this blogger can tell you, USB outlets become a desirable thing when you find yourself on the go, with many different storage drives, or working between your laptop and work computer every day (like myself). This cute little pea pod comes with four extra usb outlets that will plug in to any usb outlet. (If you clicked on this page because you thought you were looking at some high-class anal beads, let me remind you that you are currently looking at the design-themed gift guide. Get your mind out of the gutter!)
Peas USB Hub, $32 at MOMA Design Store.
Nice-Smelling Design
Three sleek-looking tubes each filled with different scents release their aroma into the air for 45 minutes, with a break every 15. The emitting scents create a quite-and-serene tone and it emits enough light to help you see in the dark like a night light would. I tend to think of this as a scent diffuser from the future.
3-Notes Scent Flute Fragrance Diffuser, $99.95 at Serene House.
Bright, Fancy, Rainbow Glasses
Um, who wouldn't want to drink from glasses that are both classy and reminiscent of Lisa Frank? Exactly.
Rainbow Tumblers, $36 at MOMA Design Store.