Even Kim Kardashian knows that teens who have cool Tumblrs are the only ones worth knowing. It's best to take a tip from America's most something celebrity and follow the teens. And what better way to get on the good side of America's bright future than giving them a fantastic and teen appropriate gift? There's no better way.
---
Look to the Tumblr teen queen herself and purchase Kyle Jenner's new line of clip-in hair extensions, which will give you her blue-green tips JUST like she had during that episode where Kim got married and Kim was like OMG Kylie your hair cannot be blue during my wedding and Kylie was like, chill Kim, I'll fix it before the wedding but then there wasn't time and now Kim says she looks back and realizes that it looked really cool because man is Kim just so desperate for Kylie to think she's hip.
---
G/O Media may get a commission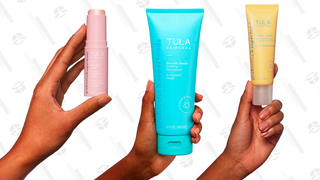 2014 was definitely the year of Shailene Woodley and what better way is there to celebrate that than to put together the DVD threepack of your Tumblr teen's dreams, complete with Divergent, The Spectacular Now and The Fault in Our Stars. (Yes, DVDs are basically a dead technology, so if you'd like to make things exciting, just print out pictures of the posters and send 'em an iTunes giftcard.) Throw in a box of Kleenex with a personally decoupaged cover and you've got yourself a party.
---
Sure, your teen's mom is going to be giving them socks but not socks like these. Not to rep the Kardashians too hard but elusive sock designer Rob Kardashian has designed the coolest socks around for his line Arthur George. I mean one of your feet gets to be naughty and the other nice? Brilliant. (Other options: Fuck/You, Kiss/Me and Love/Hurts.)
---
Forget The Hunger Games (sorry!): Erika Johansen's The Queen of Tearling is the best YA novel I've read in ages. Imagine an apocalyptic society except here the apocalypse means that everyone had to move back to Europe, there's limited medical care so stuff is like the Middle Ages again and some people can do magic. Throw in a tense slavery issues and a 19-year-old girl who's just learning she's royalty and BOOM you've got a story. A movie starring Emma Watson is already in the works, paving the way for a present down the line.
---
Rookie Yearbook Three came out in October and since Tavi Gevinson is the teen queen forevermore, you better bet your teen is bowing her head in praise for her. This particular edition includes pieces from other fantastic teens like Lorde and Dakota and Elle Fanning.
---
So this new Poloroid Instagram camera doesn't come out until January, but give 'em an IOU and all will be well. Take a picture and it prints, immediately, while also sharing your photo to the social media sites of your choosing. As it's both analog and digital in one, it's perfect for a Tumblr teen who wants to post photos online immediately while also supporting vintage.
---
Not all teens live in the big city. Get yours wilderness ready (if they are 18+) with this very cool rainbow pocket knife. One customer says he or she has "received many compliments on it."
---
Gotta have something to put your knife in.
---
What are you giving your teen this year?
Image via Shutterstock