While I recognize most of us don't interact with literal SUR waitstaff in our everyday lives, we all have that one hot mess of a friend who is too old to be doing whatever stupid shit they're doing. And even those friends deserve gifts—gifts to better their lives or simply keep them distracted so they leave you the hell alone.

---
A paternity test kit
I mean, it's only a matter of time. It's actually rather surprising that accidental pregnancies aren't a more frequent storyline in the Vanderpump Rules universe.(Of course, other than that time Jax cheated on Stassi with that waitress in Vegas and maybe got her pregnant.) Knowing who your real parent is is great and all, but it's most important to know so the father can immediately get a job at SUR and take his rightful place in the cast. (Rapid DNA Testing, $104)
G/O Media may get a commission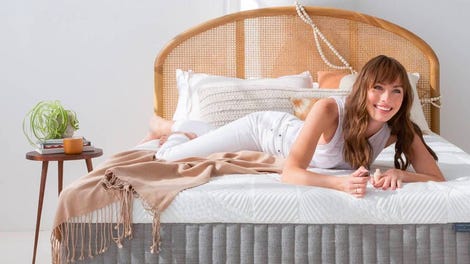 Sleep Sale
Sleep Sale - Brentwood Home
---
A fancy hair straightener
If you spent approximately 22 percent of your life grooming, you too would want some high-quality tools to get the job done. This particular straightener has supposedly been optimized to work well on color-treated hair, which will certainly be good news to this crew. (Sephora, $249)
---
Hangover cure
I am of the belief that the best relief for a hangover is a chilled bottle of yellow Gatorade, a full liter of room temperature water and a breakfast burrito from this great place down the street from me on Fairfax. If that specific combination of good isn't readily available, these "nutrient replenishment and liver support" capsules are supposedly very effective. They're branded as multivitamins "for healthy people who who drink," which is a truly impressive way of flattering borderline alcoholism. You can't convince me this product wasn't specifically made for an up and coming SUR waitress who is trying to earn her full cast member slot on the show. (drinkwel, $39.95 for 30 servings)
---
A vaping starter kit
Do these fools vape? I feel like they vape—or like they should vape. They seem like vape people. Vaping sounds like something they'd like—very much up their alley. I would get them a vape, is what I'm saying. (Vaping.com, $54.99)
---
Talkspace Gift Card
Who doesn't need a licensed therapist on speed dial every second of their life? Did I say speed dial? I meant speed messaging because Talkspace is a service that allows you to text a therapist as much as you want, which is probably as helpful as actually talking to someone? Who knows. Plus, you know this group is better at texting than talking.
I would argue that most of the issues among the Vanderpump Rules cast stem from the fact that they're all insane and deeply immature, yes, but also because they're terrible communicators and nobody actually listens to anybody. I'm guessing that, at the very least, these therapists will text you back immediately and probably won't immediately try to pivot the conversation to their own problems. (Talkspace, $128 for unlimited messaging therapy)
---
Designer sunglasses
The one caveat is you actually have to pay for these so you don't end up flying back and forth to Hawaii for trial dates. These will also work great to shield your face while the Botox settles in. (Nordstrom, $295)