It's not surprising that Janet Johnson and Michael Brown were seemingly exhausted and stunned, uttering one-word answers when they were interviewed by Ann Curry this morning on Today: Their new son, JaMichael Brown, came out of the womb weighing more than 16 pounds. He may be the largest baby ever born in Texas. JaMichael is two feet long, has a full head of hair, and a 17-inch chest. Also, and my netherregions winced when I read this, JaMichael's head is 15 inches in circumference. (He was delivered via C-section. But still.)
Those who witnessed the birth will never forget it.
Nurse Mary Beth Smith was in the delivery room during Janet's C-section. In 20 years as a nurse ...
"This is the biggest baby I have ever seen," says Mary Beth.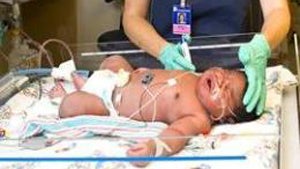 While his parents rocked back and forth, trying to soothe themselves, JaMichael slept through his appearance on live television. He is the fourth child born to his mother, who says: "That's it, no more now."
Baby Boom! 16-lb. Newborn May Set Texas Record [Today]
16-pound newborn hits it big with birth record [Houston Chronicle]