When allegations against Jian Ghomeshi first surfaced, the radio host defended himself by pointing out that none of his "jilted" exes who were now claiming he'd abused them had gone to police at the time. Well, throw that shit out of the window: he's just been charged with sexual assault and Wednesday morning, he surrendered to police.
Per a release from the Toronto Police Department sex crimes unit:
On Friday, October 31, 2014, Toronto Police Service Sex Crimes started an investigation into several allegations of sexual assault.

On Wednesday, November 26, 2014, Jian Ghomeshi, 47, of Toronto, surrendered to police. He was charged with:

1) four counts of Sexual Assault
2) Overcome Resistance - Choking

He is scheduled to appear in court early this afternoon. We will notify the media of the court location well in advance of the appearance.
According to the Toronto Star, after women began coming forward with allegations that the former Q host had beaten them without their consent in the context of sexual contact, two of the accusers—Trailer Park Boys actress Lucy DeCoutere and one woman who wished to remain anonymous—spoke to police about their experiences.
Update: Ghomeshi appeared in court this afternoon but was released on a $100,000 bail. His lawyer says he will plead not guilty to the charges against him. The Toronto Star reports:
Presiding justice Rebecca Rutherford ordered Ghomeshi to remain in Ontario upon his release on bail, and to surrender his passport. He was also ordered to live with his mother and not contact any of his accusers. Asked repeatedly if he understands the conditions of his release, Ghomeshi each time said, "I do."
G/O Media may get a commission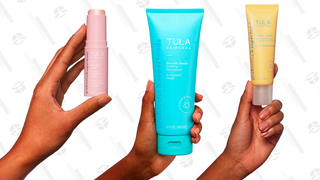 On Tuesday, several media outlets reported that Ghomeshi's $55 million retaliatory suit against the CBC had been dropped, and that Ghomeshi had been ordered to pay his former employer's $18,000 legal bills.
The whole thing makes Ghomeshi's self-pitying non-apology sound even more pathetic and creepy, eh?
Image via Getty.