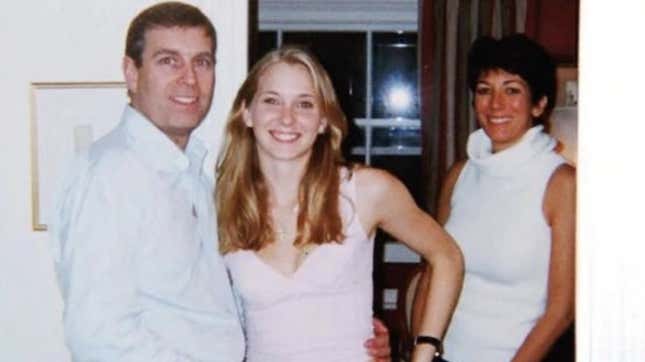 There are a lot of things I wish Ghislaine Maxwell would share from her prison cell. For starters, it would be cool if she just admitted accountability for the sexual assault and traumatization of innumerable teenage girls and young women, or sold out a few people in the Lolita Express flight logs (Bill Gates, first!) I'd also be keen to know what she and infamous murderer, Narcy Novack, gab about in the cafeteria. However, because Maxwell is well-versed only in bending to the whims of perverts and pedophiles, she's decided to spill about something else instead.
World Warriors: Street Fighter 6's Female Creatives
In a new interview, conducted in August by Daphne Barak of British TV network, TalkTV, the convicted sex offender publicly commented on that photograph of Prince Andrew and then-17-year-old Epstein survivor, Virginia Roberts Giuffre, for the first time.
"I don't believe it's real for a second," Maxwell asserted from the Florida federal prison wherein she was sentenced to 20 years. "It's a fake…there's never been an original and further there is no photograph. I've only ever seen a photocopy of it."

Maxwell's claims are a far cry from a 2015 email in which she confirmed the image was not only real but had been taken in her home. When Epstein's attorney, Alan Dershowitz, prompted her as to whether the photograph was genuine, she replied: "It looks real. I think it is." A woman who's spent her life covering up for truly monstrous men...who's quite literally serving prison time for it...is continuing to cover up for them? *insert shock here*
It's worth noting that Prince Andrew is currently in the throes of overturning the settlement he was ruled to pay Giuffre, reportedly using the inheritance he received after mummy kicked the bucket to wage a new legal battle against his accuser. But enough about him! Maxwell had much more to say.
It's her belief that she and Epstein's scores of survivors should just, "take their disappointment and upset out on authorities. Oh, and lest anyone be confused, she's not a victim. However, prison—a low-security facility that's complete with yoga and pilates classes—totally sucks.
"Prison is truly one of the most barbaric and terrible experiences any person can undergo," Maxwell said in the clip. (The interview will air in full on Monday night.) "Literally, the only thing that drives me and keeps me sane is the belief I still have something to give." And where does she intend on giving back upon release, you might ask?
"If the war in Ukraine is still going on, I could use my EMT emergency medical technician and paramedic skills and maybe I could go out and help there."
Hasn't Ukraine suffered enough?